29 Jul

My friends are the greatest!
They tell me when I'm good at stuff.  Occasionally, they tell me when I'm not so good at stuff.  Example: "You should maybe consider taking your life in a different direction."  They tell me when I look great, and when I've strayed from the looks that I look great in.  Example: I now own two of the currently-trendy belted Hefty bag dresses.  One maxi, one mini.  Friend J has insinuated that while I look fine in them, I should not add to my collection.  No matter how comfy they are.  Her (and my) better half hates them entirely, but we all have fat days.  This lady illustrates that you don't have to have a fat day to wear this dress.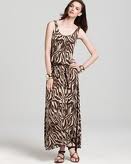 Sometimes, your friends will pretend that you don't bother them when you totally do.  Example: Friend N (see also: Husband) pretended this morning that we weren't leaving the house 15 minutes late.  He sat at the breakfast table, staring into space, as I rushed around trying to get out the door.  He then claimed that he "hadn't noticed the time" and marveled at how "the last 10 minutes go by so quickly!"  I think he was grinding his teeth, but it was nice of him just the same.
Sometimes, your friends remind you to do the things that make you happy.  Friend K, who is 11 months pregnant, is getting impatient with my lack of writing.  She sent me a message at 4am today that I should get to writin' because she is bored and can't move/sleep/sit still/function.  Or something to that effect.  So here I am, 12 hours later, writing!  Hi K, hope you're staying cool.  You should really schedule your last trimesters for the cold snaps.
Sometimes, your friends help you buy things.  In college, Friend B and I shared joint custody of a pair of purple velvet pants.  No, really, they were cool…  Friend KS and I currently share joint custody of a set of sweet recipe cards from the 70s that have cocktails on one side and appetizers on the other, complete with awesome photos.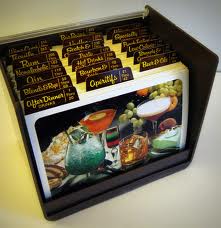 Sometimes, they challenge you to try new things!  Or new old things.  Like crocheting.  Is that even a word?  I've tried knitting… I'm okay at it.  Crocheting is easier, I think.  Friend J just asked if I could show her how.  Right now, I could not, but I was just thinking about trying it again after reading Friend K's post about it.  So I think I'll re-examine my yarn collection and crochet hook, figure it out, and teach Friend J.  Think about it… I get to do something challenging (figuring it out), something creative (making something fuzzy), and something that adds to one of my many great friendships (teaching Friend J)!  I think I'll try this cute flower, it looks like a good first project…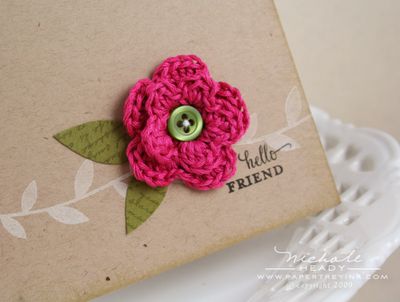 I can barely keep track of my great friends, but they seem to always still be there when I resurface from my long work weeks.  Maybe it's because of my keen fashion sense… or my cocktail-making skills.