17 Oct
I haven't failed yet.  I finished the first week of training in – get this – a week.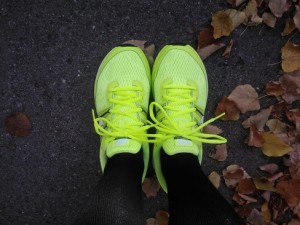 I even got two compliments on these hilarious shoes today!  One from a cool girl on a bike who was wearing the right clothes (butnottryingtoohard) and one from a little old lady whose day was CLEARLY made by the sight of me trying to run the brightness of my shoes.  She had the biggest smile on her face, it was pretty cute.  I didn't want to let her down, so I kept running.
I downloaded a 6th and final app.  I know, I have a problem.  But I think this one is a winner.  The trainer is super nice (they have a mean option but I'm not ready for that) and I figured out how to put music on my phone so I can listen to some Flo-Rida while I sweat.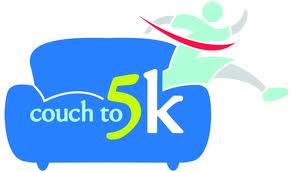 The graphics of it are friendly and cartoony and it kind of helps me forget what is happening.  The whole thing starts with a warmup walk, and then alternating walking and jogging for 20 minutes, and then a cool down walk.  I've never tried this approach, I've always just gone out the door and jogged as far as I could and then tried to go farther next time.  That approach does NOT work for me.  This interval thing is much better, and while I hate everything/am starving the whole time I'm running, I can handle 60 seconds.  And next week, I hope I can handle 90 seconds because that is what I am expected to do.  Ugh.
I feel like I should say that this isn't about weight loss.  I mean, obviously I'd like to get back into shape, but I'm not as bothered by my current state as I thought I might be.  This is about Couch and Blanket and my borderline unhealthy relationship with them.  My couch is a neutral ultrasuede, like lots of couches were about 10 years ago.  It has curved arms, but isn't overly feminine.  I can stretch all the way out on it without hitting the other end.  It's perfect.  And my blanket.  Ohhh, my blanket.  It's from Restoration Hardware and is that crazy soft stuff that is made from the eyelashes of bunnies and kittens.  It's chocolate brown, and I love it.  The only weapon I have against Couch and Blanket is this 5k.  They haven't given up, though, they were waiting for me when I got back from my jog this morning.  They have the persistence of my husband.
In other news, I am a genius.
I was whipping up breakfast this morning, a little banana and peanut butter, no big deal.  I poured myself a cup of coffee (husband has been putting apple pie spice in the grounds, he is also a genius) and walked past a little bowl of cinnamon sugar on my way to Couch.  Once I caught a whiff of that, it all became clear.  Cinnamonsugarpeanutbutter.  Obviously.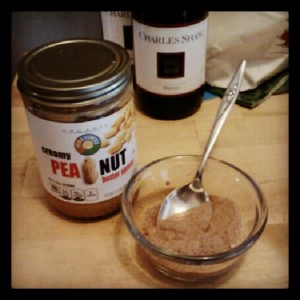 Why, yes, that IS 3-buck Chuck in the background.  No, I did not have that with my breakfast.
I had to put a lot of cinnamon sugar in the peanut butter in order to taste it, so it was kind of a cookie dough consistency.  But oh. my. goodness.  If you're still reading, you are wasting your time.  GO to your kitchens and do this.  Spread it on something.  Anything.  A banana, an apple, a cracker, your arm… you'll thank me.