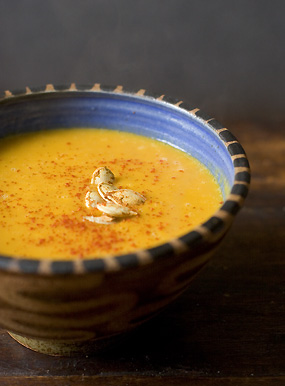 From 101 Cookbooks.
2 acorn squash, pumpkins, or other smallish winter squash
3 tablespoons unsalted butter, room temperature
1 14-ounce can coconut milk
1 teaspoon (or more) red Thai curry paste
water
2 teaspoons fine grain sea salt (or to taste)
Preheat the oven to 375 degrees and place the oven racks in the middle.
Carefully cut each squash/pumpkin into halves (or quarters). Slather each piece of squash with butter, sprinkle generously with salt, place on a baking sheet skin sides down, and place in the oven. Roast for about an hour or until the squash is tender throughout.
When the pumpkin/squash are cool enough to handle scoop it into a large pot over medium high heat. Add the coconut milk and curry paste and bring to a simmer. Remove from the heat and puree with a hand blender, you should have a very thick base at this point. Now add water a cup at a time pureeing between additions until the soup is the consistency you prefer – a light vegetable stock would work here as well. Bring up to a simmer again and add the salt (and more curry paste if you like, I used just shy of 6 teaspoons but the curry paste I use is not over-the-top spicy).
Serves six.