7 Nov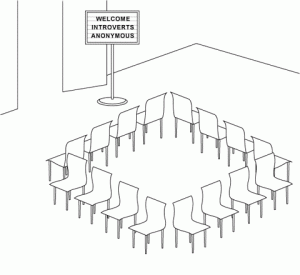 I recently sat next to someone in a group that was NOT Introverts Anonymous who introduced herself like this:
"Hi, I am Sally and I'm an introvert."
Her name isn't Sally, I made that up.  Also, that turned out not to be the most interesting thing about her.
There has been a lot of buzz on the Facebooks about introverts lately.  Until this all started, I thought I WAS an introvert.  Now I think I'm just a trovert.  I waffle.  Sometimes I want to cancel all my plans.  Sometimes I even DO cancel all my plans.  But sometimes I suck it up like a big girl and end up enjoying myself.  Yes, I can make small talk.  Other times, I am dying for some company.  I love being alone.  I also hate it.
Sometimes, my phone rings and I just don't want to talk.  Sometimes I answer it anyway.  Sometimes I don't.  And not just because it's my mom (hi Mom, sorry…).
Sometimes I'm really loud.  Usually when I'm around other loud people, but sometimes just on my own.  It helps if those other loud people are people that I like.  Loud people who you don't like?  That overwhelms everyone.  Yuck.  Sometimes, though?  Super quiet.  I process my thoughts internally.  Except for when I need to talk through them.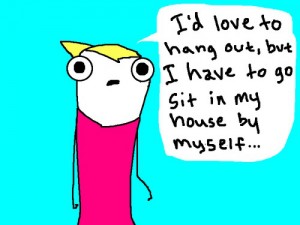 Sometimes I'm super awkward.  Because people are awkward.  Introversion is not awkwardness, awkwardness is awkwardness.  Stop being awkward, nobody is paying as much attention to you as you are.
Introversion is not Autism.  Extroversion is not Tourette's.  Occasionally I am convinced that I have all four of these syndromes.
Look at me!  I'm practically ranting!  Let's talk about something else!
I've finished this year's Halloween candy and have moved on to last year's.  It's gross and I'm eating it anyway.  Yep.