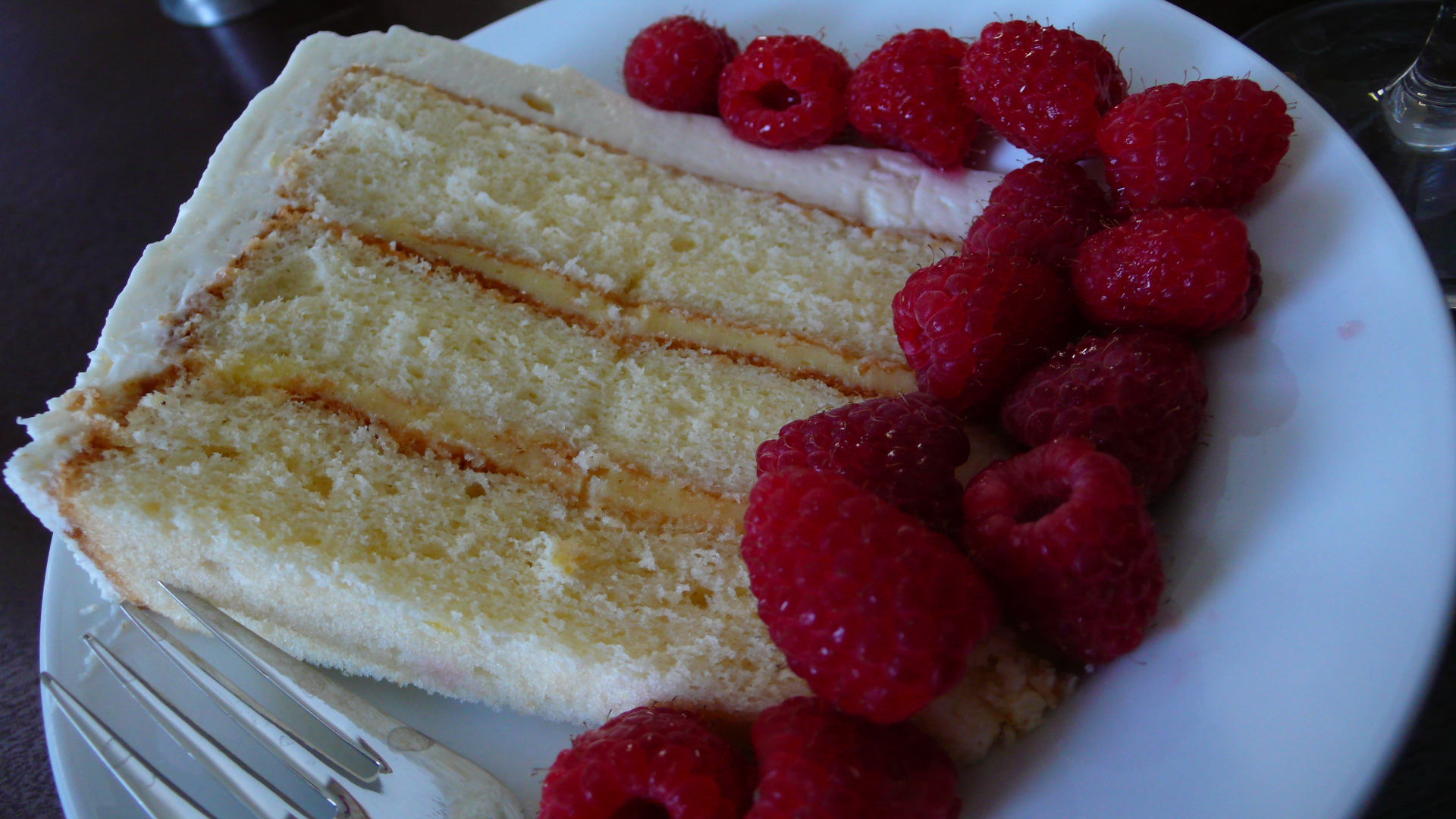 From Good Housekeeping, April 2011.
Active time: 1 hour
Total time: 1 hour 30 minutes plus cooling
Makes: 16 servings
3 to 4 lemons
1 Ruby Red grapefruit
2 1/4 c. cake flour (not self-rising)
1 1/2 c. granulated sugar
2 tsp. baking powder
1/2 tsp. baking soda
1/2 tsp. salt
1/2 c. vegetable oil
5 lg. eggs, separated, plus 2 lg. egg whites
1/2 tsp. cream of tartar
8 oz. mascarpone cheese
1 1/2 c. heavy cream
1 c. confectioners' sugar
1 tsp. vanilla extract
1/3 c. sour cream
1 c. prepared lemon curd (or make your own… they suggest goodhousekeeping.com/citruscurdrecipe)
edible flowers, for garnish
1. Prepare cake layers: Preheat oven to 325.  Grease bottoms of three 9-in round cake pans.  Line bottoms of pans with parchment paper; grease parchment.  From lemons, finely grate 4 teaspoons peel and squeeze 1/4 cup juice.  From grapefruit, squeeze 1/2 cup juice; set aside.
2. In large bowl, with wire whisk, blend flour, 1 cup granulated sugar, baking powder, baking soda, and salt.  Make a well in center.  Add oil, 5 egg yolks, lemon juice, grapefruit juice, and 2 teaspoons lemon peel; whisk into dry ingredients until smooth.
3. In another large bowl, with mixer on high speed, beat 7 egg whites until foamy.  Add cream of tartar and beat until soft peaks form.  Gradually sprinkle in remaining 1/2 cup granulated sugar, 2 tablespoons at a time, and beat until whites just stand in stiff peaks when beaters are lifted.  With rubber spatula, gently fold one-third of whites mixture into yolk mixture to loosen the batter, then fold in remaining whites mixture.
4. Divide batter among prepared pans.  Gently smooth tops.  Bake 33 to 35 minutes or until top springs back when lightly touched with finger.  Cool completely in pans on wire racks.  with knife, carefully loosen cake from sides of pans.  Invert onto wire racks.  Carefully peel off parchment and discard.  Cake layers can be wrapped tightly in plastic wrap and kept at room temperature up to one day.
5. Prepare frosting: In large bowl, with mixer on low speed, beat mascarpone and cream to combine.  Gradually beat in confectioners' sugar.  Increase speed to medium-low and beat until soft peaks form.  Fold in vanilla and remaining 2 teaspoons lemon peel until well blended.
6. Fold sour cream into lemon curd until well blended.
7. Assemble cake: Place 1 cake layer on cake plate, flat side up.  Spread with half of curd and top with another cake layer, flat side up.  Spread remaining curd on top.  Top with remaining cake layer, flat side up.  Frost side and top of cake with frosting.  Refrigerate assembled cake at least 1 hour and up to 6 hours to allow flavors to meld and frosting to set.  (Cover loosely with plastic wrap after 1 hour.)  To serve, let stand at room temperature 15 minutes.  Garnish with edible flowers.
Each serving: About 470 calories, 6 g protein, 55 g carbohydrate, 25 g total fat (11 g saturated), 0 g fiber, 132 mg cholesterol, 240 mg sodium.