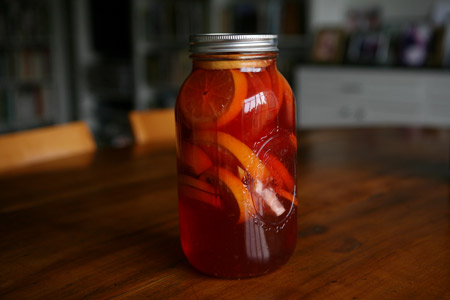 From NYTimes…
Oranges steeped in rosé produce a powerfully pretty house wine, with a flavor akin to Lillet or Campari. The most traditional versions from the south of France are made with bitter Seville oranges, the ones used for marmalade. This recipe, from Sally Clarke, a chef in London, is adjusted for the sweetness of American fruit.
Your citrus should be organic and clean, because anything on the peel will end up in the wine. You will need:
3 tangerines or oranges with a good balance of tart and sweet
2 lemons or grapefruit, or one of each.
Slice them in thick wheels and place them in a clean container (glass or hard plastic) with a wide mouth and a tight-fitting lid. Now add:
1 1/2 cups sugar
1/2 vanilla bean, split lengthwise
1cinnamon stick, about 4 inches long
2 liters rosé (about 2 1/2 bottles)
1 cup vodka.
Stir this well with a spoon (not wooden, as it may harbor bacteria that could inhibit fermentation) and fasten the lid. Keep the jar in the refrigerator, shaking occasionally to dissolve the sugar. After about 6 weeks, mix in 1/4 cup dark rum and strain everything through a fine strainer or several layers of cheesecloth. Store in bottles at a cool room temperature or in the refrigerator; it will last indefinitely. Lovely plain or mixed with sparkling wine or water.