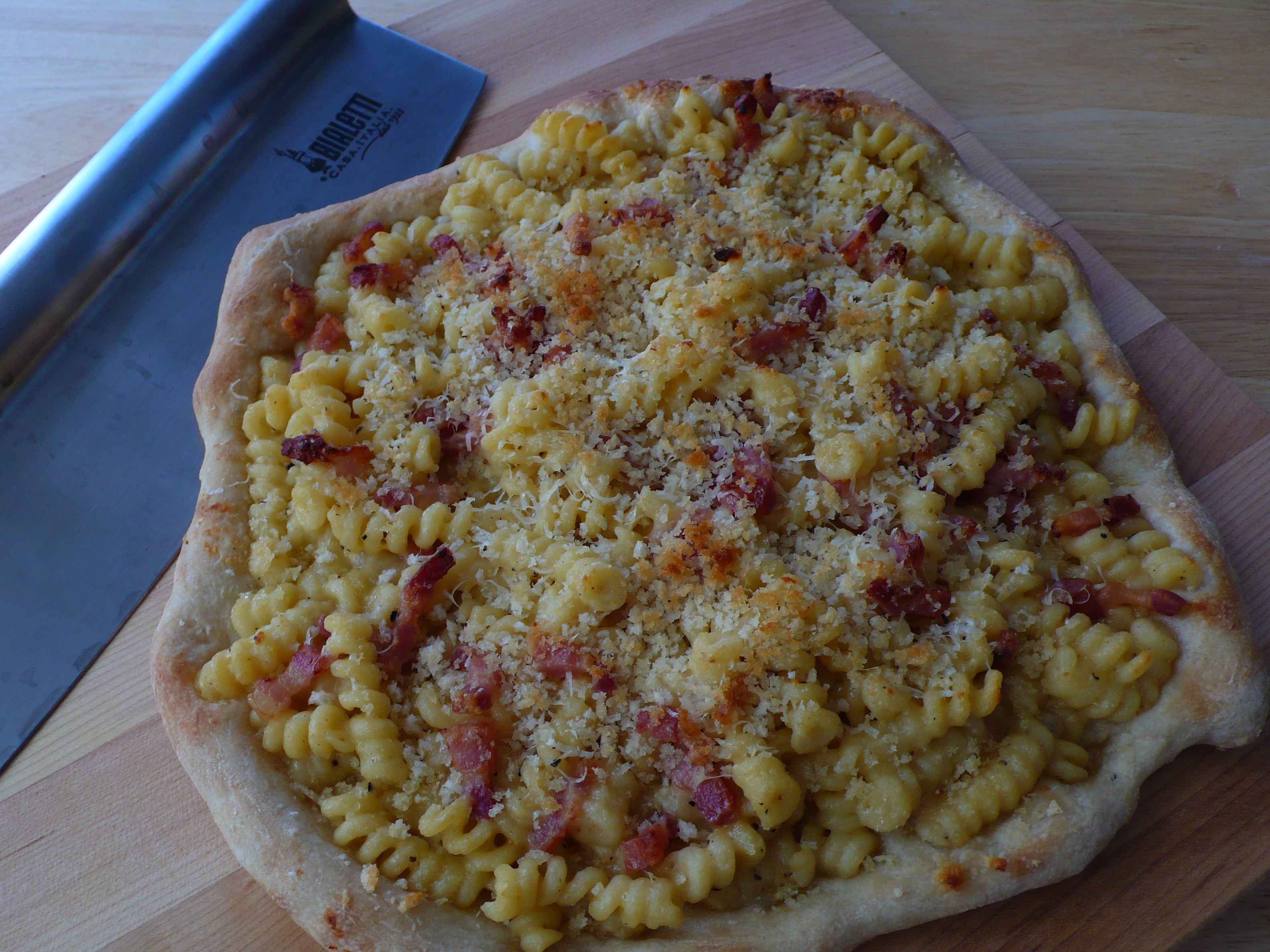 Adapted from Ina Garten, and used (without tomatoes or baking) to top my Mac & Cheese Pizza.
Kosher salt
Vegetable oil
1 pound elbow macaroni
1 cup diced pancetta
1 quart whole milk
8 tablespoons (1 stick) unsalted butter, divided
1/2 cup all-purpose flour
12 ounces Gruyere, grated (4 cups)
8 ounces extra-sharp Cheddar, grated (2 cups)
salt & freshly ground black pepper to taste
1/2 teaspoon ground nutmeg
4-5 small fresh tomatoes, sliced
1 1/2 cups panko bread crumbs
chopped fresh parsley for garnish
Preheat the oven to 375 degrees F.
Drizzle oil into a large pot of boiling salted water. Add the macaroni and cook according to the directions on the package, 6 to 8 minutes. Drain well.
In a saute pan, cook the pancetta until crispy. Drain on paper towels and set aside.
Meanwhile, heat the milk in a 1 quart/4 cup measuring cup in the microwave (to save yourself a pot) but don't boil it. Melt 6 tablespoons of butter in a large (4-quart) pot and add the flour. Cook over low heat for 2 minutes, stirring with a whisk. While whisking, add the hot milk and cook for a minute or two more, until thickened and smooth. Off the heat, add the Gruyere, Cheddar, salt, pepper, and nutmeg. Add the cooked macaroni, pancetta and stir well. Pour into a 9×13 inch baking dish.
If using as a pizza topping, no need to bake it here.  Top pizza crust and proceed as usual.
Slice the tomatoes and arrange on top of the macaroni. Melt the remaining 2 tablespoons of butter, combine them with the panko bread crumbs, and sprinkle on the top. Bake for 30 to 35 minutes, or until the sauce is bubbly and the macaroni is browned on the top. Garnish with chopped parsley for color.