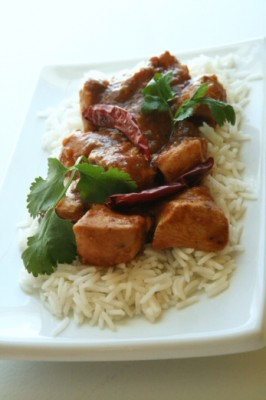 From tastykitchen.com.
2 pounds boneless skinless chicken breast, cut into large cubes
1 whole onion, peeled and halved
2 cloves garlic, peeled
1 whole small green bell pepper, seeded and quartered
1 can (156ml) tomato paste
1 can (about 400ml) coconut milk
1-½ teaspoon salt
1 tablespoon curry powder
1 tablespoon Garam Masala (Indian spice mix)
2 whole dry red chili peppers (optional for extra heat)
2 tablespoons water
1-½ tablespoon cornstarch
1 bunch coriander (optional, for decoration)
Place chicken cubes inside the slow cooker.
Place the rest of the ingredients (except chili peppers, cornstarch, water and coriander) in a food processor bowl and process together until the mix is smooth(ish). Pour sauce mix on top of the chicken, mix well, add hot peppers if using any, then close the lid. Cook on low for 6 hours.
An hour before serving, mix together water and cornstarch until the cornstarch is completely disolved. Add to the chicken curry and mix well. Place the lid back on for the rest of the cooking time.
Serve on top of steaming white rice, something wonderfully aromatic like jasmine or basmati rice. Decorate with lots of chopped coriander.