16 Dec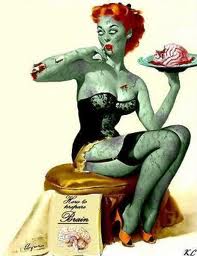 I don't know much about the zombie craze lately, but there have been a lot of them wandering around my city.  There's an entire bar devoted to it!  I'm not really sure what my issue has been lately, but it seems they've gotten my brain.  Unable to form sentences.  I missed you, too!
Let me fill you in…
Crazy sewing of clutches to fulfill Christmas orders!  Did you hear me?  Christmas orders.  I'm big time.  They've seen a slight redesign, and although you no longer have to tie a ribbon to close them (magnets!), they take me for. ever. to. make.  Including one very underthegun one for my mother in law.  I think I stitched and restitched that thing 8 or 9 times.
Marshmallows!  Did you know you could make them?  More on that later…
Limoncello!  For those of you who've never had it, it's booze.  Booze that will make you sit up STRAIGHT.  I started it a while ago, and am just now sweetening and bottling.
Chicken curry!  Unreal.  Stay tuned on this, also.
Got my semi-annual haircut!  Yeah, I know…
Bloody mary mix!  This is unbelievably tastier than bottled.  I didn't take any pictures, but I can tell you what I did…

First, you need a base.  I used organic tomato juice, and I got a small bottle of Clamato.  Honestly, it would never occur to me to put "clam juice" into a beverage.  A soup or stew, maybe.  MAYBE.  But "clam juice"…?  That just sounds gross.  Do you squeeze it out of the clams, like oranges?  Is there a clam reamer??  Anyway, some things I just try not to think about.  I used a fairly small proportion of this ingredient, but it did add a little je ne sais quoi (it annoys me when "foreign" words are italicized) to my tomato.  Savory?
Then I got out my pepper grinder and got to work.  To achieve the optimal level of peppery, your arms will probably be about ready to fall off.  These are not efficient machines.  I poured Worcestershire sauce in until it was the right shade of… bloody mary.  Salt isn't really necessary in this, because tomato juice has plenty of it.  Then I scooped in about 3 or 4 tablespoons of horseradish – in my opinion, you should read the labels in the horseradish section and go with the one with fewest ingredients.  You don't need the creamed stuff.  I squeezed a lemon or two into the pot, and then got ready to add the "secret ingredient" I learned about on the interwebs.
Pickle juice.
I was a little afraid it would taste weird, or thin it out too much – I hate thin mary mix – so I was a little cautious.  Don't be, people.  It's impossible to pinpoint, and it changes everything.  It changed my world.
For salad… olives (blue-cheese-stuffed, if your husband hasn't eaten them all), pickle spears, hot pickled asparagus, hot sauce to taste, and baby corns.  How do they make those things, anyway?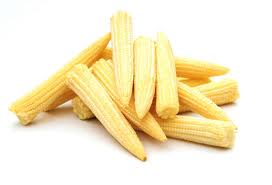 They sure are good.