12 Jul
Yesterday was Day One of my Week of Good Things.  I'm going to be honest with you – I got a lot done.  First things first, I sat out on the back porch with a cup of coffee and read.  No, wait, that wasn't even the first thing.  First, I MADE the coffee, then I lounged around with it.  Don't leave, it gets more interesting.
Breakfast tacos were the first menu item yesterday.  Soft shell for him, hard shell for me.  Some scrambled eggs, cheese, and a buffet of taco toppings.  One of the best ideas I've had!  Super easy, and having to put it all together each time kept me eating slowly enough that I didn't do that thing that horses do.
After that mess was cleaned up, I whipped up (with my helper) a breakfast bake that should get us through the week.  Today's report: the wheat baguette we put in it this time is overwhelming.  No amount of Tillamook cheddar can quiet this bread.
Next, I took the 16 organic lemons that I bought over the weekend at Whole Foods and my life-changing Microplane zester and zested and zested into a gallon jug.  Well, into a funnel that was on top of the gallon jug.  Live and learn.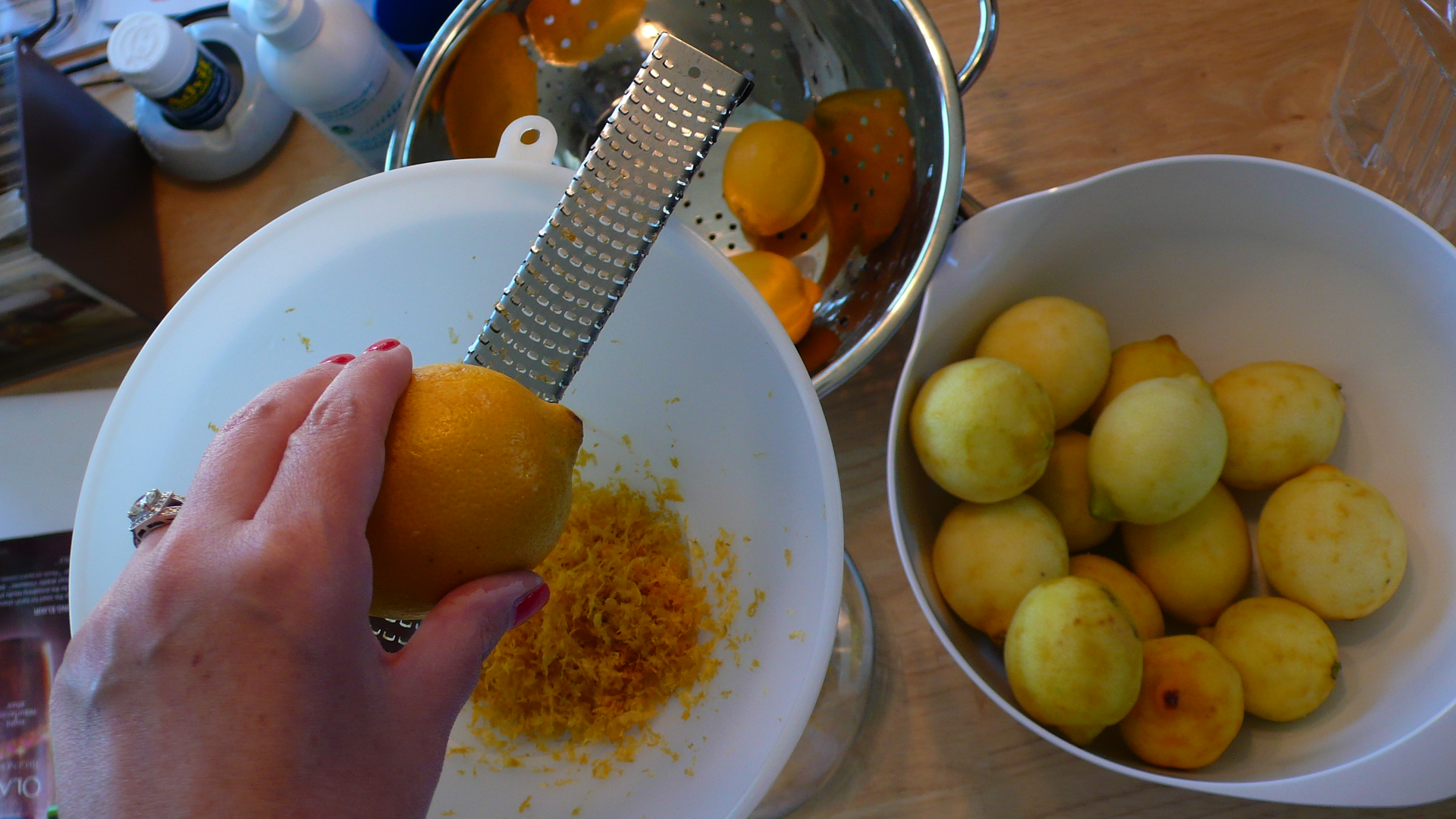 Then, once I coaxed the big zesty clog down into the jar (I used a chopstick), I poured in a 1.75 of decent vodka and corked it.  This will sit in my pantry for a few weeks until I get around to making some simple syrup to add to the mix.  It's soooo much better than the stuff you can buy, and so much cheaper!  As soon as it's done, I can get to the very important and not-to-be-taken-lightly task of inventing a new cocktail.  And yes, I'm wearing purple polka-dotted pants.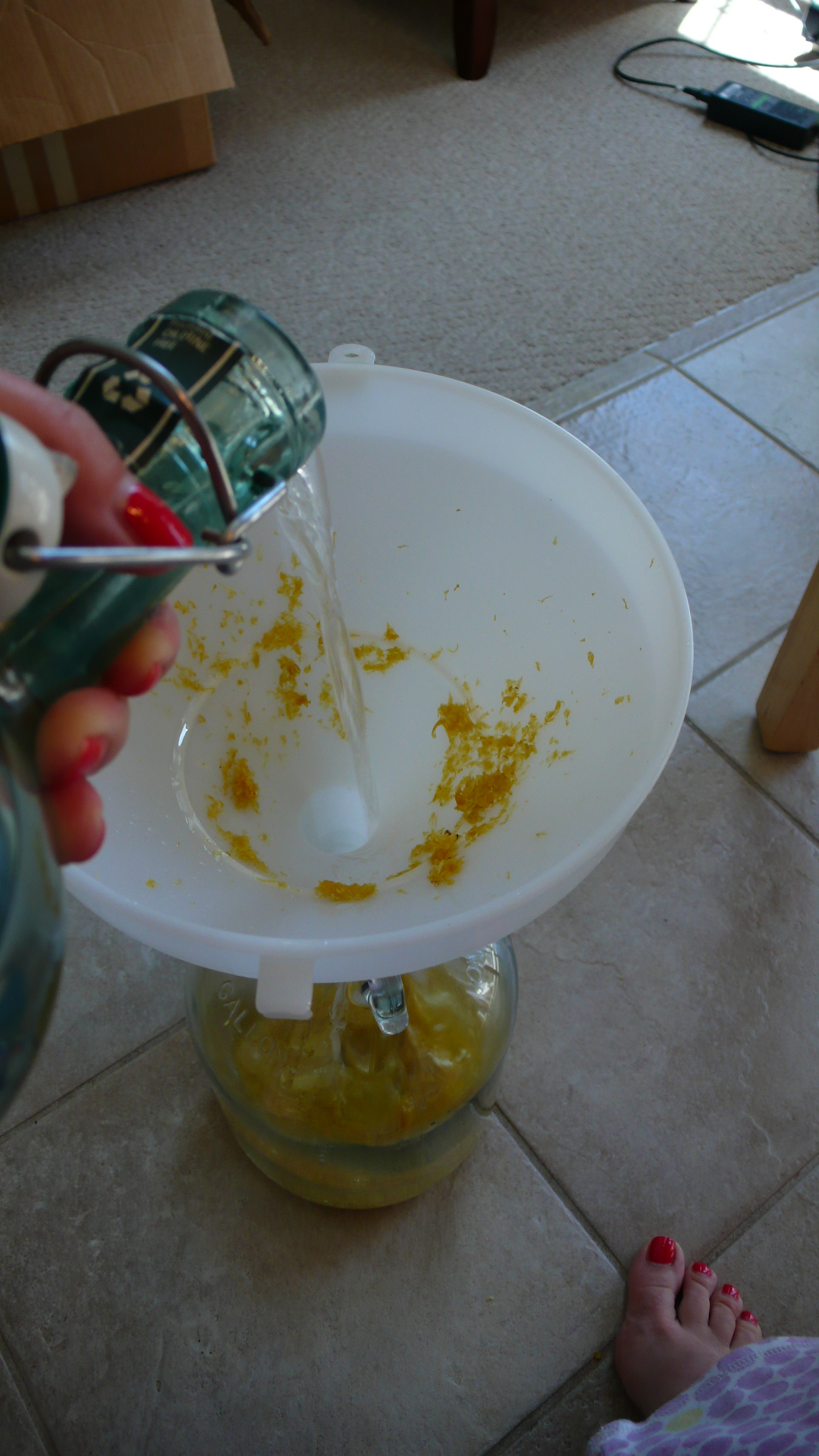 Next, I looked at the big bowl of now-naked lemons I had.  Those won't keep!  So what did I do?  I made lemonade!  This would have been a LOT more fun if I owned a citrus reamer.  What I do own, though, is a set of matching thumbs.  So my thumbs and I got to work squeezing all 16 lemons into a big measuring cup.  3 cups of juice is what made it INTO the cup.  If you've ever squeezed 16 lemons with your thumbs, you know that a lot of juice ends up on you, on your work surface, and on the floor.  I recommend getting an audience (husband) for this process, it's really enjoyable for them (him).
I'm just not convinced that you can dissolve granulated sugar effectively in lemon juice, so I made a simple syrup to sweeten things up.  I didn't use nearly the proportion that my guideline recipe called for, and I still might have over-sweetened it.  I saved the rest of the syrup so that I'd have a little jar in my fridge, something I've been meaning to do for a while.  It's a taco sauce jar, and even though I cleaned it out really well, the lid still smells like taco sauce.  So here's hoping my simple syrup doesn't taste like green chiles.
A short break was taken to go compare prices at the liquor stores in the area (research for our upcoming bbq), and to pick up some herbs that I fully intend to pot very soon.  I didn't get to it yesterday, and today isn't looking good either.  But they are by the window in their plastic bags, and I think they'll be fine for a few days.
When we came back, I embarked on my final project for the day: red curry glazed salmon with bok choy and pineapple slaw.  A-mazing.  Recipes coming soon to a blog near you.  I got them from this month's Real Simple, they had an article on 3-ingredient recipes.  I didn't expect the flavors to be so interesting, but it was great!  I think I'll keep these handy.  Bonus: 3-ingredient meals are cheaper than 17-ingredient meals. Plus I used some of the remaining cilantro to make a neat tequila drink.  Whatever helps me waste less, people.
Dinner is served.