Adapted from the Today Show segment with John DeLucie.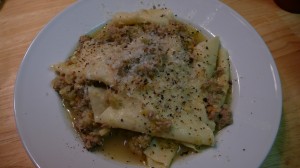 3 tablespoons butter
1 pound ground pork
1 pound ground veal
1 onion, chopped
1 fennel bulb, chopped
1 bunch celery, chopped
3 parsnips, chopped
8 cloves garlic, chopped
1 tablespoon red pepper
Salt and pepper
2 cups white wine
6 chicken wings or 1 quart homemade stock (NOT store-bought)
1 cup milk, plus extra if necessary
Preparation
Grind all of the vegetables together in a food processor and set aside. Add butter to large sauce pan and allow to heat. Add all of the ground meat to the pan and sweat out meat until cooked but not browned. Remove meat and set aside, leaving juices and fat in the pan.
Add vegetables to pan, season with red pepper, salt and pepper. Make sure the vegetables do not pick up any color. Once they are completely translucent, add meat back to the pan. Combine. Add the white wine and chicken wings, reduce until almost gone. If using chicken stock, add it after the white wine has reduced, and reduce until almost gone. Add milk and simmer until desired consistency is reached/liquid reduced. Sauce will keep in the refrigerator for over a week.
Make pasta from scratch (great tutorial here) or buy sheets of fresh pasta, and cut into 2-3″ squares. Warm bolognaise in a sauté pan with a little milk, adjust the seasoning with cracked black pepper. Add the blanched pasta with a little pasta water and finish with grated parmesan.  You could also top with parsley, cracked hazelnuts, and/or shaved black truffles.