30 Aug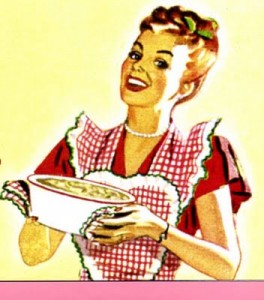 It's not that I'm a great cook, I just like to eat and buying food that is already cooked is… expensive.  And I'd rather have new shoes than pre-made food.
SO.
I invent things.  It goes like this: "What should I make?" "Well, I'm pretty lazy, and I'm craving Mexican… sounds like Mexican Casserole night!"
Then I start to google things, and I pull ideas from different recipes to get my game plan.  It's a really scientific process.  This time, it was a recipe that said you can dump uncooked rice into your dish and boom!  45 minutes later, you'll have a cheesy, ricey meal.  There's no way this was going to work, but it was RIGHT THERE!  On the INTERNET.
It didn't work.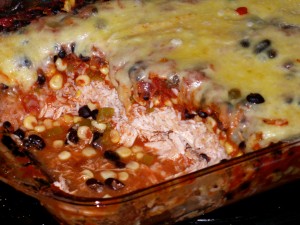 I fixed it, but not before I sent the husband to work with crunchy rice hotdish.  After adding more water and re-baking it for 17 more hours, I gave in.  I peeled the cheese layer off and dumped the rest in a pot to steam the rice.  And by steam, I mean burn.  That was over a week ago, and that pot is still soaking in the sink.  Once the rice was cooked, though, I dumped all but the bottom layer back into the casserole dish, replaced (and fortified) the cheese layer, and put it back in the oven.  It was all fine, and the rice was overcooked.
THIS WEEK, I made it again, but with corn tortilla layers and no rice.  It's awesome.  Here's what you do:
Poach and shred a couple packs of chicken thighs
Mix together a can of tomato sauce, a jar of salsa, and a packet of taco seasoning
In the bottom of a 9×13 baking pan, put a little of the tomato mixture, and then layer in this order:
– corn tortillas
– chicken
– tomato mix
– green chiles if you wanna – I used them the first time, not the second.
– black beans
– frozen corn (or fresh, since it's that time of year)
– cheese
Repeat this once or twice, and just before the last layer of cheese, dump whatever remaining tomato mix you have over the whole dish.
Bake at 350, covered, for about 30 minutes, and for another 15-20 minutes uncovered, until the cheese looks so good you just can't take it anymore.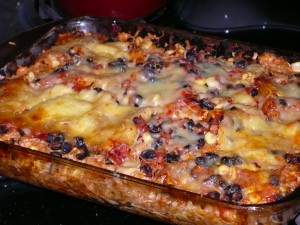 This is the first version, which doesn't actually look that good.  The cheese is all dried out.  Use your imagination.
It would be really good with some sour cream and a squeeze of lime, but remember why I made a casserole in the first place?  L A Z Y.  Anyway, if it's your thing, all these ingredients are pretty easy to find certified organic.  I'm into that.
Next up: Thai casserole.  Now accepting input.