28 May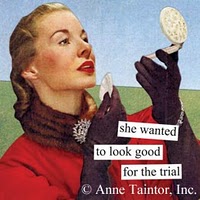 Committed can mean all kinds of things.  Since the underlying current of this blog is my marriage, you might think I'm referring to marital commitment.  I'm not.  I'm referring to the kind of commitment that happens in a psych ward.  Or on a weekly calendar.  Or the relationship between the two.
I think I work too much.  I don't work too hard, just too much.  Four days a week, I leave for work at about 10:00 am, and get back home between 10:30 and 11:00 pm.  On the fifth day, it's a more typical 9-5 scenario.  I have a job many people would kill for, but I find myself wishing I could spend more time writing.  Or making messes.  Or cleaning up the messes made by me and Others Who Live In The House.  A brief survey of my friends tells me that a common symptom of being too busy is a messy house.  You have just enough time to come home, drop your things on the floor, and get 6 or 7 hours of sleep.  Then you're back out the door again.  There isn't much time left for maintaining any standard of cleanliness, nevermind making a dent in the storage room under the stairs.  I realize I complain about the mess a lot – it's really not that bad.  If you wanted to drop by my house, I'd like a phone call when you're on your way, and in 20 minutes I could have it in a perfectly non-embarrassing state.  My goal, though, is to have it set up in such a way that I'm not always putting my energy into arranging and stacking and putting away, so that I can start vacuuming more than quarterly.  That is my goal.  I am committed.
Creativity is a big part of my life.  I dance.  I work at a dance studio.  I (try to) teach people to be creative in their communication and presentation of plans or ideas.  Sometimes I teach dancing.  Sometimes I make jewelry.  Sometimes I spray paint something old to make it look new… or older.  Sometimes I silver leaf something ugly to make it pretty.  Writing is my latest venture into creativity.  My goal is to do it twice a week.  I am committed.
I used to go to church every Sunday.  EVERY SUNDAY.  I also used to rely much more heavily on routine than I do now.  These days, my favorite routine involves a cup of hot coffee and a book or "the news."  We've found a church that we like so far, and have gone consistently for a little while.  Shopping usually helps me stick to new ventures.  Some of you will understand this right away, some of you might need a minute to catch up.  A new outfit will always make your golf game a little better.  A new fishing pole and shiny pink lures might help you catch more fish (or at least you'll look cuter when you're pulling up weeds all day).  The same holds for getting back into my church routine: having a new bible makes it just a little more fun to get up early on Sunday.  So, I shopped and now I'm committed.
My calendar is full.  I'm constantly oscillating between simplifying and complicating my life.  These days I'm very committed.  And on the verge of being committed.  But there's always the insanity plea!