9 Jan

I like to start new hobbies.
That's all.
I started knitting/crocheting once.  Now I have a bag full of yarn.  I started making jewelry once.  I actually made a bunch of it as gifts for people who helped out with our wedding, but now I have a bag of beads and tools.  I started sewing once, and now I have a bin full of fabric.  (I think I'll probably go back to that one periodically, but it's a little tricky these days as I rarely have more than one available hand.)
So I started running.  By my own pattern, I should now have a pair of shoes and a drawer full of clothes.  I had some stops and starts along the way, knee trouble, etc etc, but then I kind of hit my rhythm with it, and I've done 3 5K races so far (I'll get to that in a minute).  So… it's about time to take a break!  Wait, what's that?  I think I hear my husband muttering.  Oh?  There will "be no break-taking"?  Because you "bought me the clothes"?  Well I don't remember that argument after you "bought me all the fabric," mister.  I suspect an ulterior motive.
The last 5K… was possibly a mistake.  One of my running ladies had, I kid you not, an ICE MUSTACHE when we were done.  Clearly she is the fittest, as she can breathe through the small holes on her face.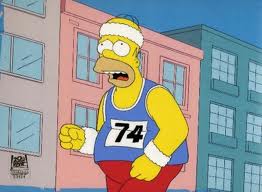 I breathe like this.
When I checked the temperature after we were done, it was -5.
But I don't get to take a break.  Because he bought the stuff.
I was told twice yesterday that I was someone's "inspiration" for their run.  Seriously, they used the "I" word.  I feel like a 3-legged dog.  Who's not gonna root for a 3-legged dog?  It reminds me of the time I volunteered at the Special Olympics and was inspired – truly – by what those kids could do.  But that's from where I'm sitting… If anyone is inspired by me, I'm honored to make them sweaty.
It has been an interesting path – my poor husband could not suppress his involuntary coughs of laughter when I announced my plan to run 5Ks.  That turned to awkward silence/not-mentioning-it, and now he's moved to encouraging/reminding-me-what-we've-purchased.
I had one of those moments the other day where I was out for a run and A) couldn't believe I was doing it and secondly) couldn't believe I wasn't angry/hungry/swearing.  Good one, Life, I never expected this!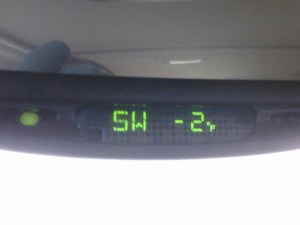 How's about a little warmer next time…?
In other news, I've decided I would like to make a sandwich using one of those toasty frying pan cheese crisps instead of just a boring old slice.  Stay tuned for THAT action.