23 Oct
This 5K thing may not hold a permanent spot in my life.  I haven't yet learned to listen to pain until it completely stops me, so I've been limping around for the last couple of days (no, I have not completely dropped the baby) swearing up and down that I WILL DO THIS 5K THIS WEEKEND.  And I will, but it'll be the most expensive walk I've ever taken.
So… that leaves the other issue to address.  What I'm Eating.
In the last 3 days, I've really enjoyed a few of the things I've eaten…  Chocolate cookies.  Flourless chocolate cake.  Figgy pudding (that's a real thing!).  Apple galette from Bonnie's with vanilla ice cream.  Tiramisu.  Yep, in 3 days.  And I've never had a sweet tooth!
Aside from the fact that there's still some of this apple thing left, and still some pumpkin ice cream in my freezer, I'm going to turn over a new leaf.  Or at least look at the underside of it.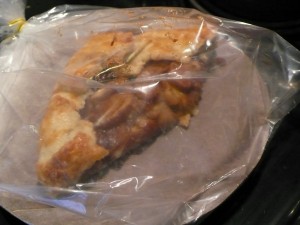 "What happened to the rest of that apple thing?" "Huh? We finished it the other day…"
But really, I've made some decent choices.  A few days ago I cooked and ate an entire bag of kale with a dressing of greek yogurt, olive oil, pomegranate vinegar, and garlic.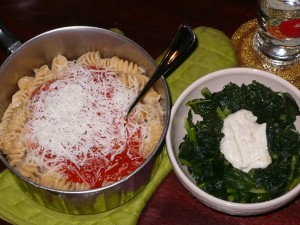 And maybe I also ate some pasta out of the pot.
I made this for a double date we hosted…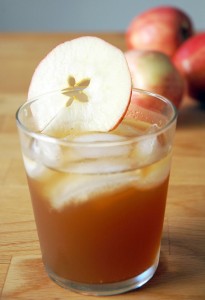 I took my own picture but hers was so pretty I wanted to show you.  It was an invention for her wedding, which makes me think I should share my wedding cocktail recipe with you someday.  Anyway, this was my fruit intake this weekend.
I also made this…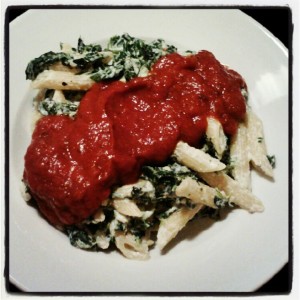 Do I know how to woo the couples or what?
It's a recipe ripoff from an Italian deli near my house.  Last time I was there, I had a "side" of mostaccioli and I guess I didn't really know what it was.  I'm sure I missed a few ingredients in my guessing, but it's basically pasta tossed with ricotta and topped with red sauce.
So I added some spinach – to make it health food – and he said I had to add sausage because food without meat is not an option when my husband is home, and this is how it's done…
Boil some water with a good pinch of salt and add whatever pasta you like.  I like rigatoni, he prefers penne.  You can see in the picture that I used penne…
Add a half pound of hot Italian sausage to some garlic and olive oil in a saute pan.  Once that is no longer pink, add a box of frozen spinach.  If you're like me, you didn't think ahead, so the spinach will take a while to thaw.  Open the wine.
Once the spinach has thawed, add a 15-ounce (the smaller size) container of ricotta and mix it all around.  Pour yourself a glass of the wine.
Scoop out about a half cup of the pasta water right before you drain it and add this to the spinach/ricotta.  Drink.  The wine, not the pasta water.
Drain the pasta, add it to the spinach and ricotta and mix it all up.  Put it into bowls and top with your favorite red sauce.
Eat.  Thank me when you're done chewing.  I'll be over here with my pumpkin ice cream.