14 Jan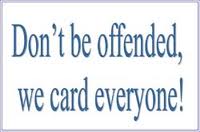 Who would be offended??

I didn't realize that I had hit the age where there were men for whom I am too old.  There was a new bartender at my regular bar (which I'm hardly ever inside of anymore, which could possibly have been my first clue) and I asked one of the guys how old he was, not because of his impossibly muscular arms but because he was one of the brothers of one of the other bartenders (that doesn't really seem like a reason anymore, but I really was just curious, I swear), and instead of getting an ANSWER, I heard things like "HE'S TOO YOUNG" and "YOU'RE MARRIED" from the guys there.  Thanks, fellas… But he's 23.  So they're RIGHT.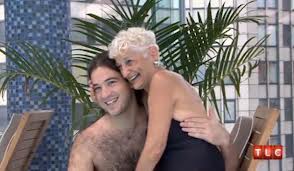 You're both kind of gross…
So I survived my first plane trip with my little sidekick.  It didn't go EXACTLY according to plan, but my hair didn't get tangled in anything, so that's gotta count for something, right?  This little bit goes out to my friend whose husband is approximately 9 years old… There was a tall, fairly attractive young man behind me in line as I went through security (which is a mess, because you have to take everything out of everything!  I don't have to take my clothes out of my suitcase, why must I take the car seat out of its bag?  You have to X-ray it over there?  I thought that thingy on the conveyor belt WAS an X-ray!), but I didn't notice him until TSA started ordering him to help me fold the stroller and get the car seat out of the bag.  They even snapped at him when he tried to go around me through the detector!  I went with it, but when I was going through the scanner myself and they were still bossing him about my stuff, I told them that he wasn't with me.  Ha ha!  Isn't that funny!  Everyone thought so except my unhusband, who just looked sort of shaken up.  I took it as a compliment, that I could have such a YOUNG baby daddy.  It felt like when I get carded.  He clearly took the whole episode as an insult, even when I tried to console him by saying that it would make a great story/blog post!  Some people just don't want to see the bright side, you know?
Random strangers offered to help (never when I actually needed help… but I like your enthusiasm, strangers!  Keep on!), pilots are surprisingly distracted by babies, and my kid stayed true to form – not a peep.  When we landed, the lady right behind me said, "Oh, I didn't even know there was a baby on the plane!"  High five, kid.
SINCE I AM NOW AN EXPERT, here are my $0.02 about traveling with an infant on the slowest Saturday any airport has ever seen…
-If the base is a tight fit in the car seat bag (or if you don't have a bag, but I recommend one – they have wheels and keep things nice), skip it.  You don't need it.  Get over your emotional attachment to it.
-Ask if the flight is full.  If it's not, see if you can get put next to an empty seat so that you can bring your car seat on board.  It's free this way, and then you get two hands!  TWO hands!  To celebrate, I ordered two drinks.
-Get there early enough to have time to do what you need to do.  I don't mean get your shoes back on or to your gate or whatever, I mean get a glass of wine.  Or a latte, if it's 8am (but I am NOT judging).  Sit down, call your husband, drink your latte.  Breathe.  People are about to look upon you with great skepticism (they think your baby is adorbs until you are getting on THEIR PLANE), you need to find your zen.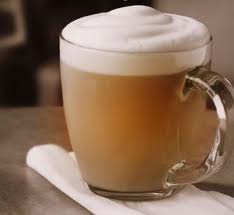 That's about all I have to say about that.  I landed, my very small mom tried to carry all my stuff (which I think was embarrassing for both of us), we ate food, and then we sat.  And then we ate some more food, and then we watched Downton Abbey.  Home!