1 Aug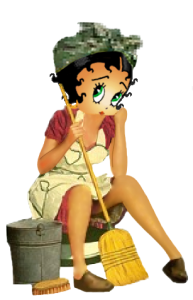 [Photo: photobucket khunPaulsak]
I know a girl who has a cleaning lady.
A CLEANING LADY.
Think about that.
Now, here's the part where I say I don't actually want a cleaning lady.  I mean, they only clean.  They don't organize or straighten or sort or any of those other things.  I don't sit on the couch, staring at some shelf that needs dusting.  I sit on the couch and stare at the enormous pile of laundry that needs to be put away or the mountain of dishes that need to be done.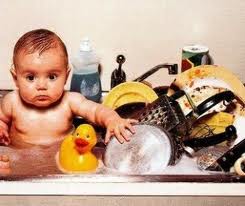 I do not keep my baby in the sink. [Photo: craigboyce.com]

If cleaning ladies did that, I'd think about it.  But come on, once I've tackled the big stuff, I'm pretty sure I could wipe down the newly-cleared surfaces.  I say I'm "pretty sure" because I've never, like, DONE it.  I just think I probably could.
But it turns out… I kind of have a Cleaning Lady.  Cleaning Husband.  Husband Lady?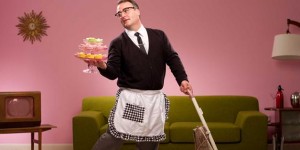 Man Among Men!  [Photo: trianglerebath.com]
I was away for a few weeks, and was only minimally threatening about what should be the state of affairs when I returned.  You see, last time I went away, he left the countertops for ME to clean.  "Because you like wiping down countertops!"  There was a brief discussion after that one.
This time?  It was all done.  And. it. was. sparkling.  Be jealous.