23 Oct
I vacuumed.  The spaghetti squash is out of the oven.  The house has a cozy, fall thing going, and the game is on.  Time to write!  My thoughts keep wandering within the subject of purpose/intention/self/others (yes, that is A subject), so this might be a little scattered.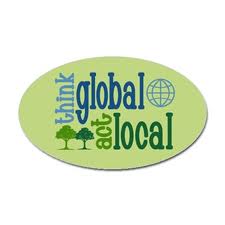 I remember seeing "Think global, act local" on bumper stickers and plastic bags when I was younger, and not really understanding what it meant.  I had a brief stint in the Science & Nature Club when I was in 8th grade.  We picked up some trash by the creek.  I got muddy, and that was about the end of THAT for me.
I spent the next decade or so not thinking globally OR locally, but "the global community" was all the rage on my college campus.  I studied abroad, but wasn't really moved by that concept.  I was more into the food and the old guy at the Roman deli who would communicate with me via sign language and charades (el vino cheapo?).  I'm my favorite reference point, after all.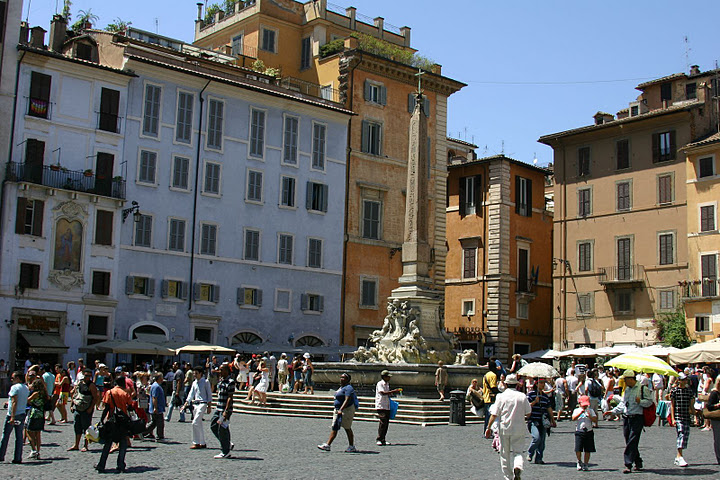 I believe you can find the aforementioned old guy inside the door on the lower left corner of this picture.
These days, my focus still tends to be on my more immediate surroundings, but that's trendy now so I don't have to hide it.  In terms of food, we have some pretty great options around here.  Amazing farmers markets in the city with satellite locations around the metro.  Local sources for meat and dairy.  Tons of local businesses to support if you can get out of the habit of just going to Target… which actually happens to be a local business for me!
We tried out a new church today, and on the way home the discussion turned towards that global community.  Being nerds, there are a lot of things that can appeal to us about a church… Academic discussions of the text are great.  Historical context and modern application are interesting to compare.  And he particularly likes when there's some mention of what he calls "the rest of the world."  My main concern is whether I'm allowed to bring my coffee in.  All these are factors in our quest to be part of something larger than we are (that isn't work-related).  Hey, I'm finally thinking less locally!
I always notice in marriage and baptism ceremonies when everyone in the room is asked to commit to the person or people before them.  I tend to let people do their thing, so it's a cool way for me to look at life – other people are openly invested in us and our relationships.  On the serious side of my pursuit of successful wifedom – TWO LEVELS OF MY HOUSE are currently clean! – I realize that I have to work on who I am, work on my half of who we are, and be part of a community.  It's almost like each part is a whole different "self."  Does that seem like a lot of selves to anyone else?  No wonder so many of us are crazy.  This poor lady is screaming at nothing.