22 Jan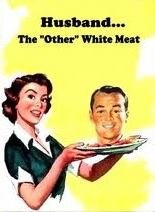 I'm cleaning, and it's the kind of cleaning where I'm finding bookstore receipts from 2007 (I did not live in this house in 2007), jewelry I wore in college, and random wedding cards.  In one of these wedding cards, I found some helpful hints from the 50s.  Assuming that some of you are drawn to this because you, too, are maritally challenged, I thought I'd pass these on.  Snarky comments are mine.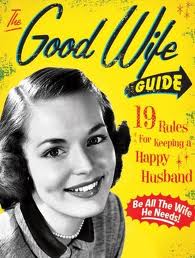 HOW TO BE A GOOD WIFE [Get a notebook.  For taking notes.  Ready?]
High School Home Economics Text, 1954
Have dinner read.  Plan ahead, even the night before, to have a delicious meal, on time.  This is a way of letting him know that you have been thinking about him and are concerned about his needs.  Most men are hungry when they come home [Mine is hungry when he comes home.  And when he wakes up.  And when he's doing laundry (yes, he does laundry).  And after dinner.  This is futile.] and the prospect of a good meal is part of the warm welcome needed.
Prepare yourself.  Take 15 minutes to rest so that you'll be refreshed when he arrives.  Touch up your makeup, put a ribbon in your hair [all I have around here is a bunch of rubber bands from produce bunches.  I could link those together, this could work!and be fresh-looking.  He has just been with a lot of work-weary people.  Be a little gay [cannot adjust to this meaning an emotional state, all I see is Agador from The Birdcage] and a little more interesting [I do not need to TRY to be interesting.  I am fascinating.].  His boring day may need a lift [so does mine.].
Clear away the clutter [ha].  Make one last trip through themain part of the home just before your husband arrives, gather up schoolbooks, toys paper, etc.  Then run a dust cloth [ha!] over the tables.  Your husband will feel he has reached a haven of rest and order [HA!], and it will give you a lift too.
Prepare the children.  Take a few minutes to wash the children's hands and faces (if they are small), comb their hair, and if necessary change their clothes.  They are little treasures and he would like to see them playing the part [I don't have children.  When I do, I will come back and make fun of this part.].
Minimize all noise.  At the time of his arrival, eliminate all noise of the washer, dryer, dishwasher or vacuum.  Try to encourage the children to be quiet.  Be happy to see him.  Greet him with a warm smile and be glad he is home [okay, this part might be alright…].
Some don'ts [oh, good]:  Don't greet him with problems or complaints [but he leaves the cupboards open!].  Don't complain if he is late for dinner.  Count this as minor compared with what he might have gone through that day.  Make him comfortable.  Have him lean back in a comfortable chair or suggest he lie down in the bedroom.  Have a cool or warm drink ready for him [Fine.  One for him, two for me!].  Arrange his pillow and offer to take off his shoes [!!! Have you smelled man foot?  He can handle his own shoes.]  Speak in a low, soft, soothing and pleasant voice [um, I believe that IS my voice…].  Allow him to relax and unwind.
Listen to him.  You may have a dozen things to tell him, but the moment of his arrival is not the time.  Let him talk first.
Make the evening his.  Never complain if he does not take you out to dinner or to other places of entertainment.  Instead, try to understand his world of strain and pressure, his need to be home and relax [I'm getting the sense these "wives" didn't also spend the day at the "office"]
The goal: try to make your home a place of peace and order where your husband can renew himself in body and spirit [we need a maid].
Okay, so some of these are just considerate of someone who may have had a stressful day.  I don't know how I'd act if he went to work every day and I didn't.  As it is, I occasionally beat him home by 10 minutes or so… maybe next time that happens I'll try freshening up my makeup and having a cool or warm drink ready for him, just for kicks.  If I offer to take off his shoes, he'll just think I maxed out the credit card.