25 Sep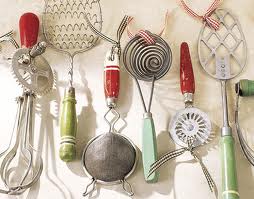 I love vintage stuff.  I love kitchen stuff.  I spent several hours this weekend at antique stores very specifically not buying loads of vintage Pyrex with SUCH happy daisies all over it.  I did not buy any Russel Wright platters.  Or butter dishes.  Or ashtrays – I don't know what it is, I love them.  Came close with a neat Sanka one… and then nearly caved on the Pyrex again.  It was a roller coaster.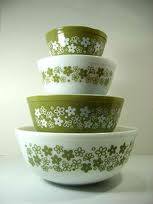 Come on.
But really, I HAVE mixing bowls.  They don't complete me the way these do, but they're mixy and bowl-like and serve their purpose.  The claustrophobia of the antique stores got me thinking about what I Need.  I don't mean neeeeeeed; that's different.  My closet is an entirely separate discussion.  But the kitchen is an easy place to fall into the gadget trap.  Kitchen stores have entire wings devoted to gadgets!  Glorious wings devoted to glorious, glorious gadgets.  Herb mincers.  Herb keepers.  Mezzalunas for chopping herbs.  Garlic presses.  Citrus presses.  Citrus reamers.  Citrus zesters.  Cheese graters.  Chocolate graters.  Nutmeg graters.  Egg cubers.  Banana Slicers.  WHAT WILL I DO WITHOUT A BANANA SLICER??
My mother, who is responsible for my bad habits, also makes some good points.  Most useful to me is her kitchen wisdom.  "Never buy a gadget that serves only one purpose."  Okay, Mom.  Well, my coffee pot only serves one purpose, but maternal advice is meant to be loosely followed.  She didn't say not to buy several versions of multipurpose tools…  My kitchen clutter is mostly mugs and spatulas, but recently I've noticed some appliance buildup.  I own a Kitchen Aid mixer, a food processor, a mini food processor, a blender, and an immersion blender.  It seems we've got a situation.  Smitten Kitchen has a little rundown of ways to maximize a small space, or from my perspective, how to minimize buildup.  She thinks her mixer is incredible for this.  She thinks nesting mixing bowls are the way to go (I'm pretty sure those happy vintage bowls wouldn't nest with the others, so it's just as well they stay where they are).  She says you should keep everything white – no thanks.  But it's definitely time to focus on efficiency.
I have a few kitchen powerhouses of my own.  One is my Shun Santoku knife.  Behold.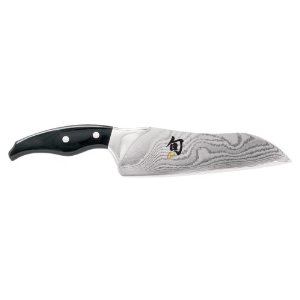 It turns everything into butter, and doubles as a garlic press by having a nice wide blade with which to smash garlic.  The only thing I really don't use it for is cutting into uncooked squash.  It seems kind of unwieldy, and it's a really sharp knife.
Obviously my Kitchen Aid mixer is a workhorse, but I'm not utilizing it that way just yet.  I know that there are lots of attachments that would allow me to get rid of other things, so I will get to that one of these days.  But anything that makes my life this easy is an automatic hero.
My biggest kitchen crutch is vinegar.  It takes hard water stains off glassware!  It cuts through the coffee spills on the counter!  It cuts through cooktop grease!  It tells me I'm pretty!  Plus I like that it's just vinegar so it's not hard on my hands or the earth or anything like that.  And when you need a little more elbow grease than it provides, its nemesis, Baking Soda, does a pretty great job.
Pretty soon I'll be doing some organizing that should allow me to sort through my duplicates and get them to people who need them more than I do.  That will make some room for those lovely vintage mixing bowls…