18 Oct
I recently acquired an accidentally amazing vintage sewing machine.  My mother in law found it in some lady's basement, and they figured it was just "old," but it turned out to be "vintage."  Very Important Distinction.  According to the serial number and manual, it's from the late '40s.  It's from before the age of excess, so it's small and fits into a nifty case that stows out of way ever so politely.  Ever since it hit my living room a week ago, I've obsessed over finding a project to start with… Much googling, and I decided on this little clutch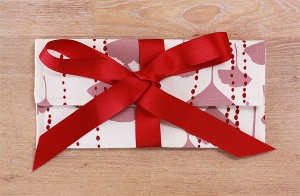 from WhipUp, a neat crafty blog.  One of the things I liked about this project was that it was pretty nonspecific about the instructions, and I generally prefer guidelines to rules.  I knew going in that I'd be dissatisfied with my results, but that I'd know what kind of changes I wanted to make next time around.
I headed out to good ol' Joann and browsed the bolts.  Thrifty as I am, I managed to find ONE that was on sale, but if you've ever been in there, you know it's impossible to get out for under $50.  I found a couple florals and a couple stripes that I was inclined to mix, some iron-on interfacing (I thought of that on my own, and then noticed it in the directions!  That made me feel like a "natural" or something.), some ribbon, and a tomato pincushion just like my mom has.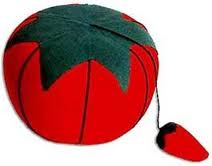 I ironed my fabrics and got to measuring and cutting.  Immediately, I started to fail.  I need a system for this, and also a ruler and a fabric pen.  But me, my Stanley tape measure, and my Bic pencil did just fine, I think.  Besides, this wasn't about perfection, it was about playing with my new toy.  Measure and cut, measure and cut, measure and cut, and this is what you get: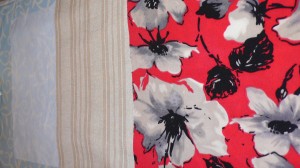 Boring white: interfacing.  Stripe: inside.  Floral: outside.
I ironed, I pinned, I forgot to sew the ribbon to the outer material before putting it all together.  Whoops… good thing I'm MacGyver with a needle and thread.  Sew, sew, sew, despite the CONSPICUOUS absence of seam allowance guides on my machine, and the whole thing was only slightly crooked when it was all said and done.  So slightly, in fact, that I had to point it the specific crookedness out to my friend.  We decided it was no big deal, and would go away with a little practice.
I think the whole project took me an hour, and if I had a little practice I could probably cut that in half.  A little practice and a fabric pen.  I think I used about $5 of the $75 Joann Fabric took me for, and so I immediately wonder if I could sell these on the black market.  Or the craft market.
Someone told me once that if you tend to get really invested in buying all the supplies for a new project, but then have trouble following through, that you're "really creative," which I thought was a beautiful way of saying "slacker."  I can see it, I guess… I get excited about all the colors and patterns and combinations, but the cutting isn't as fun.  However, I like that sewing something small is nearly instant gratification, especially when compared to my (NOT abandoned) attempts at knitting and crocheting.
Finished product = worth it.  Looks more or less like the original picture!  Place your orders now – also comes in blue!