13 Jun
That's how my mom's phone spells "quinoa."  She's trying to learn the T9 spelling thing.  It's cute.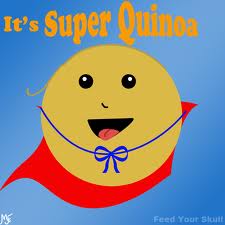 Have you had quinoa?  I'm new to it.  It's kind of amazing.  It's sort of like brown rice+cous cous, but so much better for you!  One cup of the stuff – cooked – has 8 grams of protein and 15% of your daily iron!
So I made this the other day.  First, it's a local blog!  I need to read more.  I love anything with avocado, and I'm especially curious about things that are dairy and soy free these days because one of my friends has to stay away from both for the sake of her little boy.  I guess being a mom is hard.  So I was pretty excited to make this, and even more excited at how AMAZING this was, and sent it to her post haste.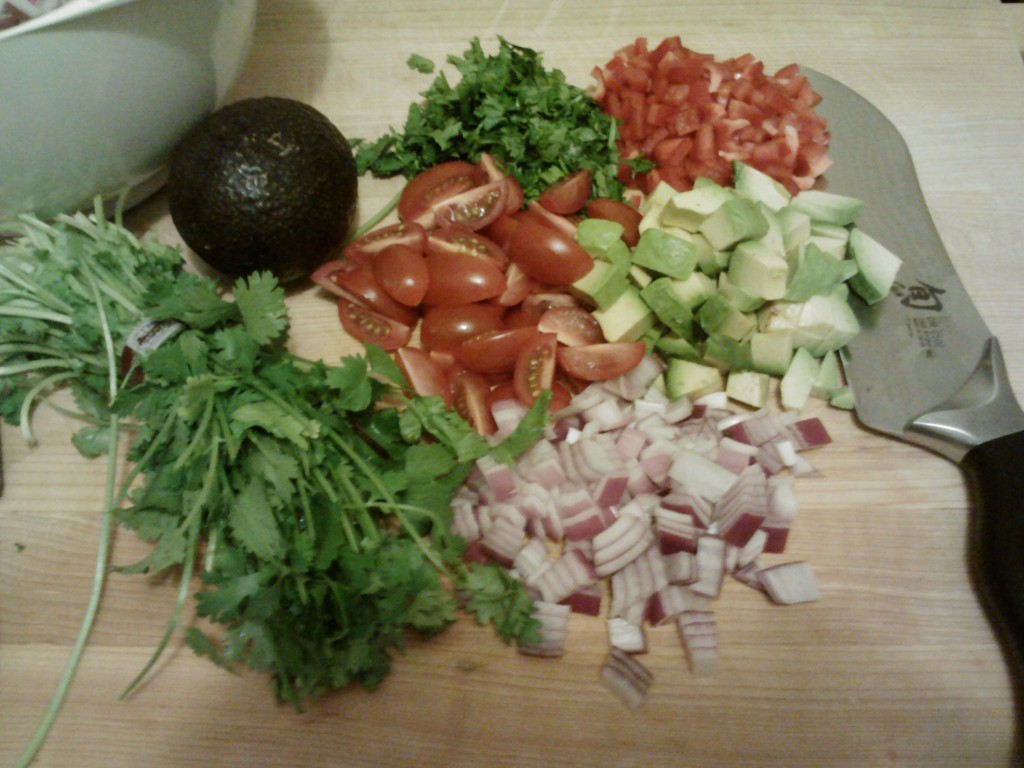 I like to cook big batches of things on the weekend and then eat them all week for lunch.  So when I try a new recipe, I just have to hope it's not gross.  Fortunately, I'm pretty good at reading recipes and making changes before something turns out nasty.  So I more or less tripled this recipe, and chopped up a bunch of cilantro, 2 boxes of cherry tomatoes, a big red onion, a big red pepper, and 4 avocados.  I had the quinoa on the stove while I did this, and also some chicken.  I wanted this to have some more calories and protein.
Once the quinoa was cooked, I mixed 3 cans of black beans into it, and then all these veggies and chicken.  I poured the cumin-lime dressing on top, and I was done!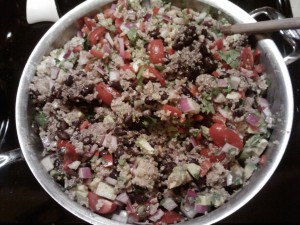 Okay, it took me a little longer to make than it did to tell you about it – I'm a slow chopper.  But an hour of sweat for a week of food?  Sold.  Oh, and I went to the expensive store and got lots of organic ingredients and still only spent about $40 on the whole thing – 6 quarts and it should feed us both all week.  SOLD.
And the other project – unpacking.  Yeah, the project I'm not focused on right now because I'm writing about what a great cook I am.  This is our recycling room.  ROOM.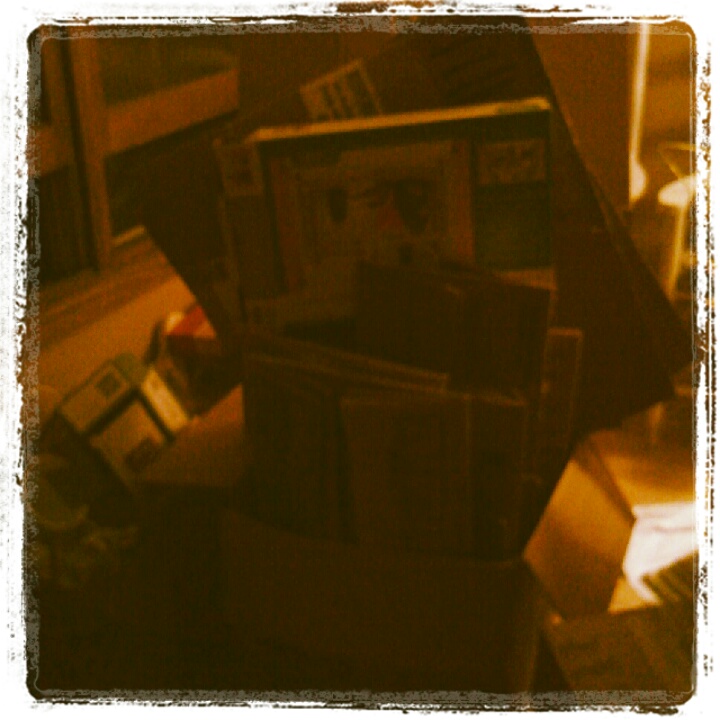 The fact that we have an entire room dedicated to broken down boxes should tell me that we've made progress.  But there's still so much to do!  I got rid of lots of stuff that I didn't want and didn't use, and now it's time to start looking at the stuff I do want and do use, just maybe not all that often.  There just isn't enough space for everything to go, and that's okay.
So tomorrow I will line all my scarves up and interview them individually on why they deserve to stay.  We just can't afford to continue employing all of them.  Downsizing is hard.