13 Sep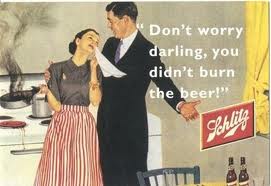 I'm a great wife because I cook for my husband.  I'm not so great because dinner hits the table around 10:30pm.  Points for effort?
I know this isn't when I normally talk about my attempts at frugality, but it coincides so nicely this weekend with my attempts in the kitchen that I really can't avoid the subject.  I saw a commercial on Sunday morning that Pahl's Market has a fresh vegetable stand inside their garden center.  We decided to check it out on the way home from church, and scored all of this…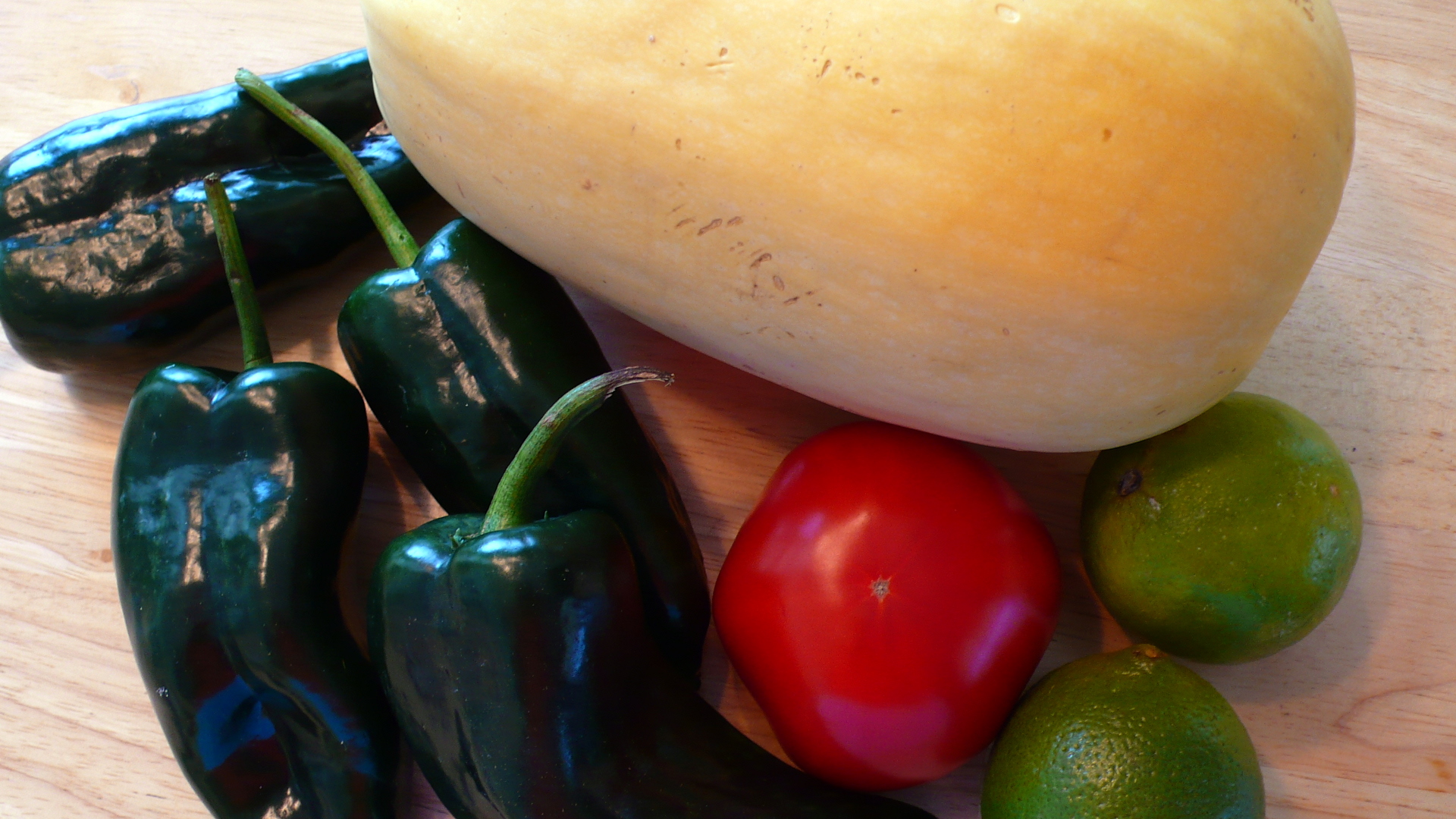 …for $3.87!  I used a poblano and the tomato in a breakfast scramble thing with the leftover chorizo from last week's bake and one of the limes in a couple of gin & tonics.  The tomato was juicy and red.  The poblano was actually spicy.  That never happens!  The limes were sweet, which was strange but amazing.  The big beige blob you see is a spaghetti squash.  It's something I've been meaning to try for a couple years, but either I never notice them or they aren't available at all stores.  A good friend of mine grew up on the stuff and has good childhood memories of it.  Plus, we figured this meal cost us five or six bucks, and could have really been 3 or 4 servings, not just 2.
I thought I'd keep it simple for my first rodeo and just make a tomato sauce to go with it.  The husband was SO impressed with the low low prices that he was willing to race back to Pahl's before closing time last night so that I could get some more tomatoes, a head of garlic, and an onion for said sauce.  I got home with my killing and got to work.
A trick: score the bottom of the tomatoes with an "X" and place them in a collander in the sink.  Heat water in a kettle to boiling and pour it over the tomatoes.  Cool them with cold water from the tap, and then peel them.  The skins come right off!  No bad words necessary!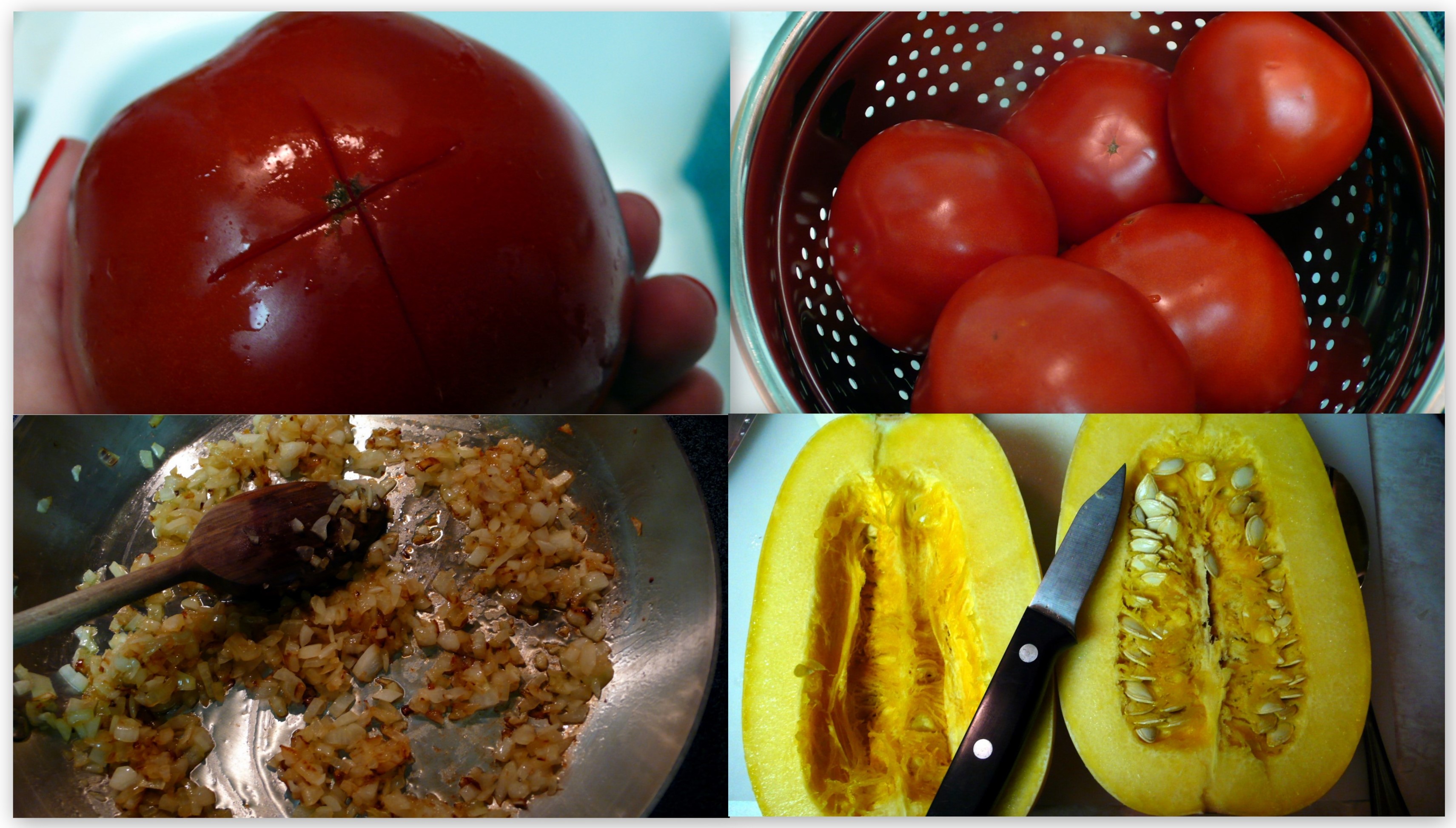 I chopped half of the onion and smashed a couple cloves of garlic, and set them to saute them in my best olive oil.  Then I got to work on the squash… easier said than done.  Several knives were discarded in the process, but this little guy was the winner.  I could make a nimble fist, jam him into the skin, and work it slowly around the diameter.  I've read a few recipes that say you can bake the squash whole, and THEN cut it open.  Next time.  I scooped the seeds out, oiled it up, and baked it cut-side down on some foil.  I think about 375F for 30-40 minutes should do it.
While the squash was baking, I got to work on my sauce.  I hacked the skinned tomatoes into chunks with my awesome kitchen shears, threw in a couple of bay leaves, and let it go for about half an hour.  After it was nice and simmery, I just used my wooden spoon to smush the tomatoes into a nice pomodoro.  A little salt and pepper and some dried basil, and I was done.  The squash came out of the oven and in went some ripped up hunks of sourdough also left over from last week's breakfast bake, coated with olive oil and Penzey's life-altering Shallot Salt.
I "fluffed" the squash with a fork, kind of like you do with rice, to separate the strands.  Each half more than filled a pasta bowl, and I topped it with the sauce.  The sauce turned out to taste exactly like the sauce my mom always made when I was a kid.  I always hated it.  I wanted Spaghetti-Os.  I wanted Stouffer's Lasagna.  I did NOT want FRESH VEGETABLES.  Times have changed.  I want fresh vegetables, and I want to live on this squash and sauce and shallot hunk combo forever.