20 Mar
I ran the Get Lucky 7k this weekend.  The whole thing.  And now I have a "finisher's medal," which I sort of object to in principle – I did not win, I am not a winner – and a sweatshirt that says "7K & Half Marathon."  I'm comfortable letting people assume I ran either one.
After we crossed the finish line, we went straight to the coffee shop on the corner where my buddy's husband had ordered us some hot chocolates.  I drank that thing like it was my j. o. b.  Then we went out for burgers and various fried things.  Then MY husband wanted pizza for dinner.  So… so much for that run having any sort of lasting effect.  Note: your body does not want a slew of grease and cheese and processed grossness after it does that much work.  It just doesn't.  Be nicer to it.  (It totally wants the hot chocolate, though.)
The next thing I want a non-winner's medal for is flying with this baby.  Again.  I just keep doing it.  And I definitely judged the kid sitting next to me.  He had a LOT of product in his hair and some pretty dumb clothes on, but then he was reading Food & Wine, and was exceedingly sweet.  I'm sorry, Yanni.
An excerpt from my flight…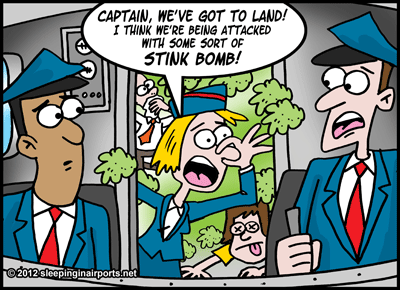 Me: Can I change my baby in that bathroom?
Flight Attendant 1: No.
Me: [turns around, walks away]
Me: Is there a good place for me to change this kid?
Flight Attendant 2: Do you know how to change her on your lap?
My Brain: WHAT???
Me: I don't think that will work… is there, like, a little patch of floor somewhere?
Flight Attendant 2: Oh, no, you don't want to put her on the floor, it's gross.
My Brain: Grosser than getting this ALL OVER MY LAP, LADY??
Me: [turns around, walks away]
I ended up finding an empty aisle seat with nobody next to it and making that work.  I apologized to the man sitting closest, but probably gave him fair compensation in leaning forward in my loose top to get the job done.  Sigh.
I also had a shamrock shake.  I did not love it.