5 Mar
I don't like to sweat.  I don't like to get up, I don't like to move, I don't like to be bothered.  I like to read and watch TV and play around on the computer.
I also don't like to have no muscle, though, so for most of my adult life, I've whined my way through exercise of some sort.  Last year, I decided it was time for a challenge, and before I could stop myself I told a friend that, sure!  I'd sign up to do a 5K with her!  Why not?  I was in the depths of putting ON the baby weight, and the reality of taking it off seemed so distant… Months later, I had some obnoxious new shoes, and I was standing out on my sidewalk not really sure what to do next.
I will never forget the feelings that came over me in my first few runs as a new mom.  Fear.  Confusion.  Anger.  Deep, deep hunger.  I started out alternating a few blocks of walking and a few (one) blocks of running.  One particular Tuesday morning, I ran past a house that was clearly barbequeing some sort of incredible incredibleness.  ON A TUESDAY MORNING.  Anger and confusion!
Before you start your venture to become "a runner," people tell you it's great!  They tell you it'll change your life!  They tell you it's addictive!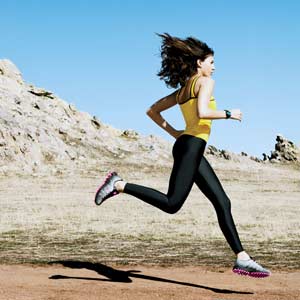 It doesn't look like this.  Nobody looks like this.  And don't point your toes, it's weird.
I'M GOING TO TELL YOU THE TRUTH.
As soon as you are done, it's great.  You're a superhero.  You cannot be stopped.  Etc, etc.  While you are running?  It is the worst.  According to one of my sources, everyone wants to go back to bed at some point (all of the points) during the first mile.  Running is uncomfortable.  Addictive?  Hardly.  I could never run again and I don't fear the withdrawal symptoms one bit!
You know what running is, though?  Efficient.  I worked out in 20 minutes today!  BOOM.  I've been on the couch ever since.