20 Oct
Handkerchiefs are a weird thing.  I get that they're green, and that maybe disposable tissues didn't always exist.  But unless you're using them to roll up your jewelry for traveling… GROSS.  There's nothing worse than someone using their hanky and putting it back. in. their. POCKET.
So… you can imagine my inner conflict at making "silk handkerchief" pasta…  "Handkerchief" and "food" don't really go together.  But when I saw this segment on the Today Show, I couldn't resist trying it.  Especially because he thought it looked soooo good, and doesn't always get too excited about cooking.  I modified a lot of things with the help of my mother, so my own version is here.
Off I went to the store, and was thrilled to walk away only about $30 poorer.  Some meat, some veggies, and some wine.
Step 1:  lay out the veggies, chop them up, and "grind them" in the food processor.  Note: I really want one of these with the locking blade so I don't have to deal with that when pouring it out.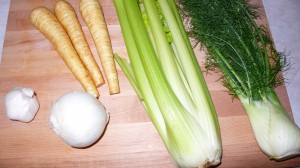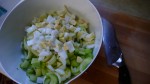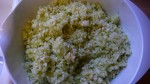 Into the melted butter goes the meat, then, once it is cooked (not browned), pull it out and toss the ground up veggies in with the fat and juices until they're translucent (not browned).  Everyone back in the pool, dump in a bunch of wine (yes) and some chicken wings (instead of stock).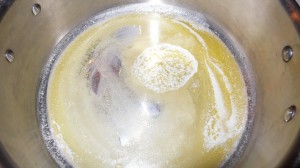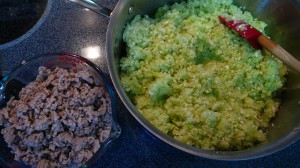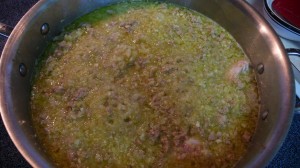 I let that simmer and got to making the pasta.  I was too focused to get good pictures of that, but found an awesome tutorial here by A Sweet Pea Chef.  I cut the sheets into square-ish shapes for the hankies.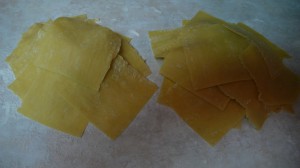 To me, cooking fresh pasta is terrifying because it overcooks so fast, but I made it through.  To the rescue, yet again, was my mother with her suggestion of an ice water bath after I pulled them off the stove.  The process of realizing they were done, scooping some of the water out for the sauce, bringing the pot to the sink, scrambling for the lid, screaming at the husband for the lid ("NO NOT THAT ONE THAT ONE!!!!), the slippery little suckers getting out of the pot anyway, and finally upending the whole thing into my nearly-overflowing bowl of ice water.  Amazingly, I thought to put a colander into the bowl of ice water, so I did do one thing logically.
I tossed them all into the sauce, and ended up with this dish of glory for supper…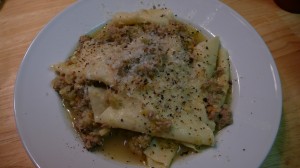 …and this mess to clean up…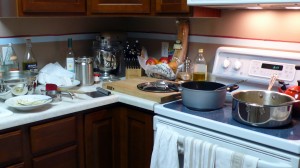 Yep, still no housekeeping service.