18 Aug

We're having a garage sale.  No, not a two-for-one on garages, but a smorgasbord of discards.  There will be treasures ranging from absolute junk to stuff I just don't need or use anymore.  Or ever.  It gets better… it's not just my junk, but the junk of 3 other households as well!  The next few days will determine whether this is the best or the worst idea ever born of this group of ladies.  And it's got competition in both directions, so it's going to be a close race.
Donation is the way we usually get rid of stuff around here, but did you know that Goodwill won't accept Christmas items in the summer?  When on earth do you think I go through my Christmas stuff??  So it's important that these items sell this weekend.  It is not important that I take home a great profit (except on my vintage historical stereo with detachable speakers and double tape deck), it's important that I NOT take home any Christmas stuff.  So, garage sale it is!
This forces me to look at my stuff and ask myself if I want to move it again.  There's no telling how far the next move might be, so it's an important question.  That cookie sheet?  Definitely not.  Not moving that guy again, he doesn't pull his weight.  Cookies and frozen pizzas just stick, and stick, and stick.  But the stereo with detachable speakers – yes, detachable speakers! – that I bought in 9th grade?  With my own money, mind you.  VERY industrious at 14.  I flamed out early.  I'll put that stereo in the sale pile.  But I'm definitely pricing it out of range so that I can continue to move it from house to house.  This way, though, he thinks I tried my best to get rid of it and it just wouldn't sell.  It's vintage!  A piece of history!  I'm sure you understand.
The trick will be to resist taking my fistful of cash (or pennies) and reinvesting it.  Garage sales are their own circle of life.  You buy something at a garage sale, and ultimately end up selling it at a garage sale.  You take the money handed to you in exchange for that item, and rush out to "reinvest" it in someone else's vintage electronics.  Or whatever your thing is.  My most recent treasure?  A vintage ash tray.  I don't smoke.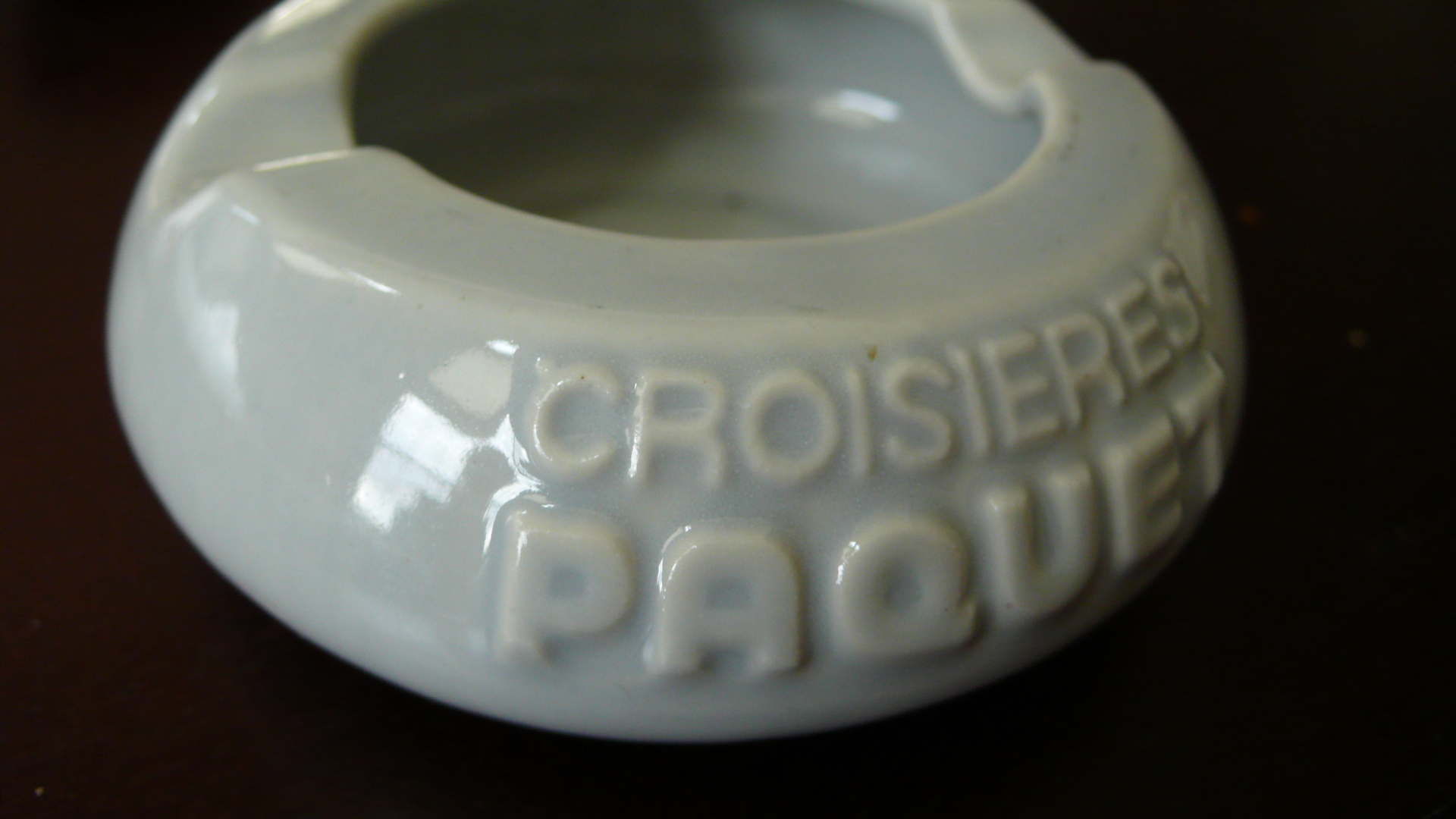 Isn't she lovely?
With my recent vow of thriftiness, the idea here is to take my profits and invest them in an actual bank.  No shopping.  I'm pretty sure I can do it unless I run across new lampshades for my kitchen chandelier or a sewing machine that I just cannot pass up.  I'm sure you understand.  To help me stick to it, I'm counting this as a "revenue stream."  Someone told me once that a household should have several revenue streams – ideally, 7 of them.  Did you know that?  Me either.  It's interesting to think about, though, and I think it can't be bad to shoot for.  We each have a job: check, check.  I think investments count: check…?  Once or twice a year, I sell some junk or some craftiness: check.  Still need three more streams, but I'm not sure I can be bothered about that just yet.  Someday, friends, enough people will read these ramblings that this very page could be a revenue stream… okay, maybe not.
When you're cruising the sidewalks this weekend, snapping up other peoples' junk (it's probably an antique!  they don't even know its value!), bid persistently.  Don't let those ladies emotionally overprice their items out of purchaseland.  That's their revenue stream and it's our responsibility to make sure they end the day with cash, not a failed trip to Goodwill.  Go forth and garage sale!