11 Aug
Am I really the only one who feels totally overcaffeinated when the IKEA catalog shows up in July?  How about Restoration Hardware?  Or even just little ol' Crate & Barrel?  I find it hard to believe that I'm alone here.  When he asks why I bother dog-earing the pages, I tell him that I'm just "getting ideas" for things like… paint color?  How to arrange the furniture, maybe?  I've never actually looked for these things in a yummy new catalog.  I'm sure I could get these ideas from the great staging they do, but what I actually see is gorgeous furniture that I need.  Wait, want.  I get those two mixed up a lot…  To understand how much I truly do not need furniture, you should know that until a few weeks ago, we owned five sofas.  Five.  This does not count upholstered chairs, of which we have at least that many.  I think I've mentioned that it's a big, uncleanable house.  Holds a lot of sofas.  Davenports, if you prefer.
When we were cleaning up after our big shindig this weekend, we were looking around the house with a little bit of a critical eye, and he was telling me a few of the features he "hates" about the place.  We got on the subject of ceiling fans and other fixtures.  I have mixed feelings about ceiling fans.  I think they're not the most beautiful design element available, but I love the option of moving the air around via something other than my expensive-to-run and highly-inefficient air conditioner.  There are two in the house, and sometimes we run them even though they're in rooms we never use.  It's our theory that the air circulates beyond those little rooms… but who knows.  We're contemplating replacing one of the builder-standard gaudy "chandeliers" in the main room with a ceiling fan, but it is my opinion that it should be a non-hideous one, or it's not really worth it.  Read: expensive.  That was pretty much immediately pointed out to me, but I quickly moved on to the next idea I had.  Take the gaudy "chandelier" in the kitchen and paint it red.  The question is whether I could swap out the glass "shades" for something that would be a little less 2001.
I saw this on Shabbie Chic Home's Etsy site and realized I might be able to make something cool…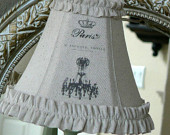 And how cool would it be to have mason jar shades?  Okay, maybe a little much on an entire chandelier.  But I like the idea!  And cool of BootsNGus to recycle vintage jars this way.  I love that they tell me it will remind me of catching fireflies as a kid.  Agh!  Suckered again.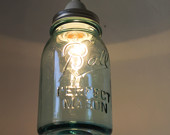 I don't tend to rush out and buy housewares.  My bigger impulse issue is clothing, as my job is fashion conscious and it's easy to justify.  I neeeed this dress.  Wait, is that justifying or whining?  Either way.  And maybe there's a little truth my claim that the wardrobe needs constant updating, but I can still shop the closet.  I can turn wide leg pants into skinnies.  I can take that dumpy old jacket and have it cropped and tailored.  That's usually cheaper than a new outfit!  And I can paint the things in my house that are ugly until they are bearable.  I have a hunch that the busy-ness epidemic and the consumption epidemic are close cousins.  I'll be trying to consume less without adjusting my schedule at all.  Stay tuned, this could get interesting.