10 Jul
Okay, I don't exactly have an issue with monotony.  It has been 4 weeks since my last confession.  Post.  Have a seat, I'll catch you up…
We made it.  We're officially Not Newlyweds.  I gave him a Kindle (paper anniversary… get it??) which I more or less had to set up for him.  He's not very technological.  He gave me a hat!  I love it, but I haven't figured out what to do with it yet.  It looks like this: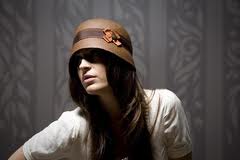 We spent the weekend at the same hotel we stayed in one year prior.  We had dinner at the same restaurant.  We spiced it up by having drinks at a place that had nothing to do with anything other than I really like it.  Turns out it all felt really overpriced this time, but as he put it, "a nice parallel."  Next year we think we'll order a pizza.
The next weekend was reasonably quiet, as I'd thought I would be on a business trip so there wasn't much planned.  A little garage-saling (saleing? sailing? whatever), a little birthday party for one of my many pregnant friends, and an inaugural batch of bacon chocolate chip cookies.  That's right, I said bacon.  After this experiment, it may be making appearances in all manner of baked goods that come out of my kitchen.  As I write this, I realize that a "quiet weekend" for me involves baking, shopping, and partying.
The NEXT weekend was Inlawpalooza.  I survived.  We went to Colorado to celebrate my cousin-in-law's wedding to a lovely man who will not become a priest.  Long story.  Okay, it's not that long.  She's pretty hot, so he thought he'd marry her rather than finish seminary.  Good times were had, sleep was not.
Now we're back in town for a (little) while.  I've set up a tentative chore calendar which I am certain he will love, and I've got some 3-ingredient recipes to try out.  Next week I have a little more time to myself than I normally do, so I'm trying to think of things to do that will help me feel like a more balanced individual.  So far I've scheduled a brunch.  I thought maybe a "pole fitness" class would be fun, but those conflict with my work schedule.  So… maybe some yoga?  Hopefully some writing, I always enjoy that outlet.  Jewelry-making is a distinct possibility.  And chores, though not enjoyable themselves, always make my life seem a little simpler.  I definitely plan to spend some time this week making limoncello.  It has been a couple years since I've tackled that, but I'm confident that I can still pull it off.  Now I just need to find a summer cocktail recipe for it… club soda?  mint?  hibiscus tea?  Stay tuned for more on all that, and on my pineapple bok choy slaw.  It can only turn out well.