21 Dec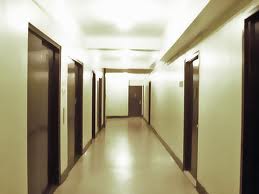 Have you ever lived in an apartment building?  Did you ever see your neighbors?  Were their ethnic backgrounds different than yours?  Did you wonder what on EARTH they were eating for dinner?
I didn't actually discover curry until I was about 21, but once I tried it I was hooked.  I had a neighbor for a few years who I never saw, but I'm convinced they had an elaborate setup of tubes and fans and were aiming their delicious curry smells into my apartment.  Convinced.
I was feeling lazy the other day and thought I'd try an easy looking Pinterest recipe for slow cooker chicken curry.  I had most of the ingredients on hand already – a can of coconut milk, some tomato paste, curry powder, corn starch, etc.  So I had to pick up some chicken and the spices that I use less often.  Like dundicut peppers.  ?!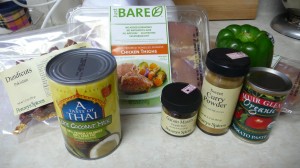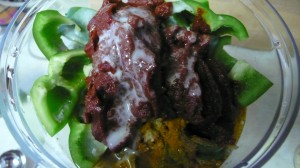 First, you toss everything but the water, cornstarch, and chicken into a food processor to make a curry sauce.  Cut up the chicken, put it in the slow cooker, and pour the sauce over it.  Stir it up, add the hot peppers if you're using them (that's what the 2 suspcious brown things are in the bottom right shot…).  They aren't as hot as I'd hoped, so next time I'll add more.  Cook it on low for 6-8 hours.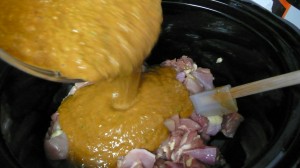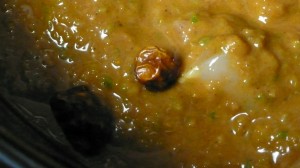 Serve over rice, and add some store-bought naan if you want.  If you heat it up and brush it with some oil, it will be fat-covered carbs and therefore JUST FINE.