14 Jul
I've turned to a life of crime.
It's Day Four of my Week of Selfishness.  Fun in the kitchen on Day One, some quiet writing time (and a super fun meeting) on Day Two, and a lovely brunch on Day Three.  Today's mission?  Pot some herbs.  I had no way of knowing it would take such a dark turn.
I don't always do my homework before I start a project.  Usually I do my homework somewhere near the beginning of the project, so that's something, but I tend to shop for supplies and THEN take stock of what I need.  This invariably results in either having more than I need, or not enough.  In this case, it was not enough.  This is partly due to my efforts lately to not buy things I don't need (I know, right?).  So for my little planting project, I did not buy a trowel.  I found that a half-cup measuring spoon did the transfer of dirt from bag to pot just fine.  That was the best outcome of my self-restraint.
A few days ago, I bought three herb plants – basil, cilantro, and mint.  Those are the ones I use most frequently in cocktails, so I thought I'd start there.  I didn't buy any pots.  I had one from my days in an office that used to hold one of those viney plants everyone had on their file cabinets.  The kind that is poisonous to a cat?  I thought I'd put the mint in that one, as it's a pretty and expensive pot, and I will keep the mint inside.  Check.  I knew that there were some pots in the pile of Her Things that remains in the garage, but it turned out there was only one in the size I need.  Soooo… I went back out this morning to find a third pot.  Found a cute/cheap fat blue guy in pretty short order.  Done and done.  When I got back home, I decided to google "how to pot herbs."  Yeah, I could've done that before I started any of this, but I didn't.  Don't tell my dad.
This is where things start to go downhill.  Step One was to put my pebbles in the bottom of the pot.  Pebbles???  You may remember that I'm trying to Buy Less (I know, right?), so I start thinking of things that could act as pebbles.  The purpose of them is to create better drainage, so I just need some objects that will hold their shape when wet and under a pile of dirt.  Next scene: cut to me crouched under my deck.  In the rain.  In sweats.  Filling the front of my sweatshirt with the river rocks my homeowners association uses to edge the landscaping.  Actually, it's probably included my association dues…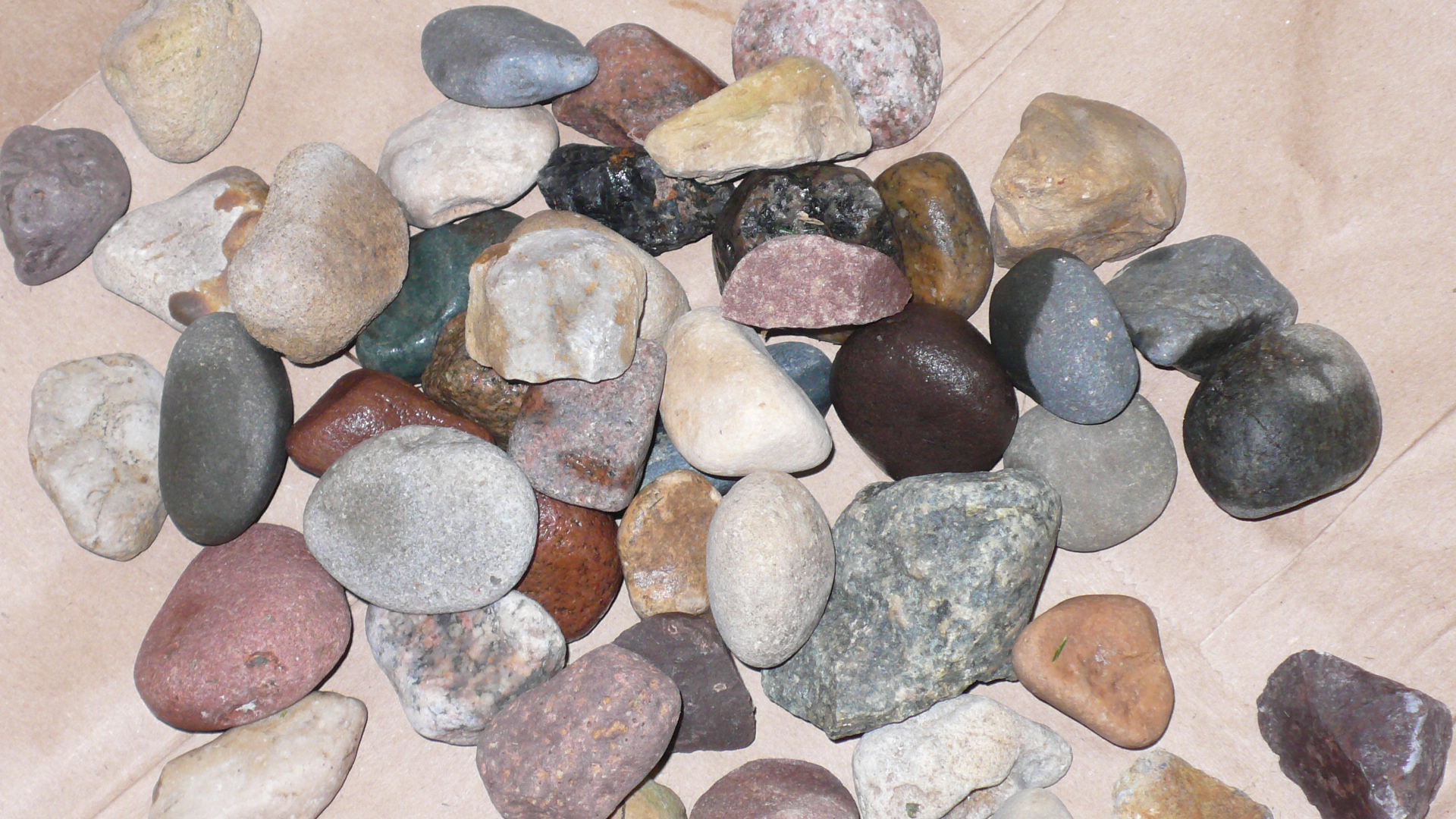 This is what I made off with.  If anyone asks, you haven't seen me.
I cut a grocery bag to make a work space instead of a mess.  Someone tell my dad!  Pots and black market rocks lined up and ready to go.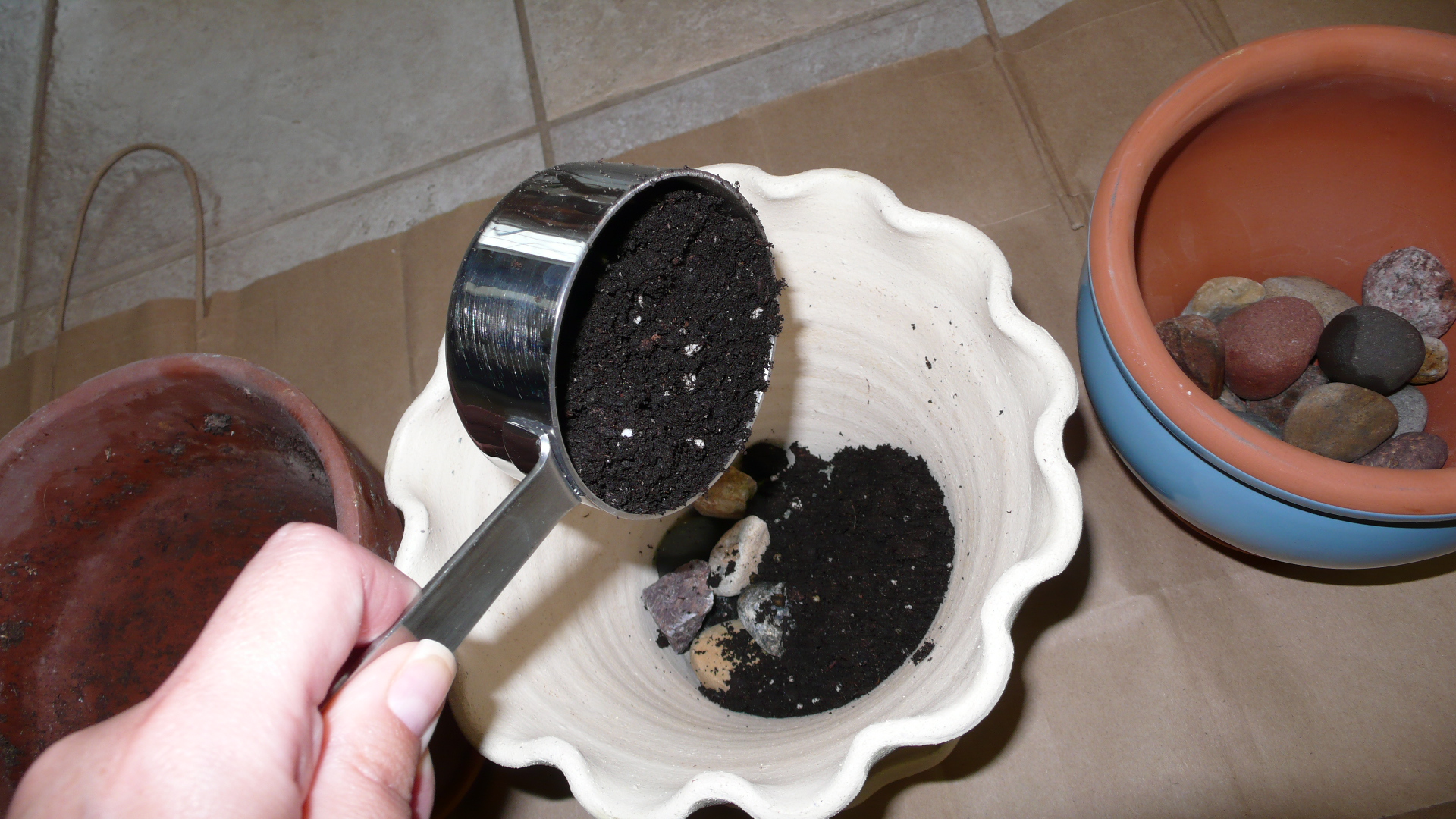 Next, with my trusty half-cup measure, I put a little potting soil on top.  (I couldn't find organic potting soil, only organic garden soil.  I don't know enough to know if they are interchangeable, but I assumed they make both for a reason.  Anyone know where to find organic potting soil?)  I peeled the compostable "pots" off of my plants and we sorted out where everyone was going to live.
Mint went into my old favorite Smith & Hawken pot.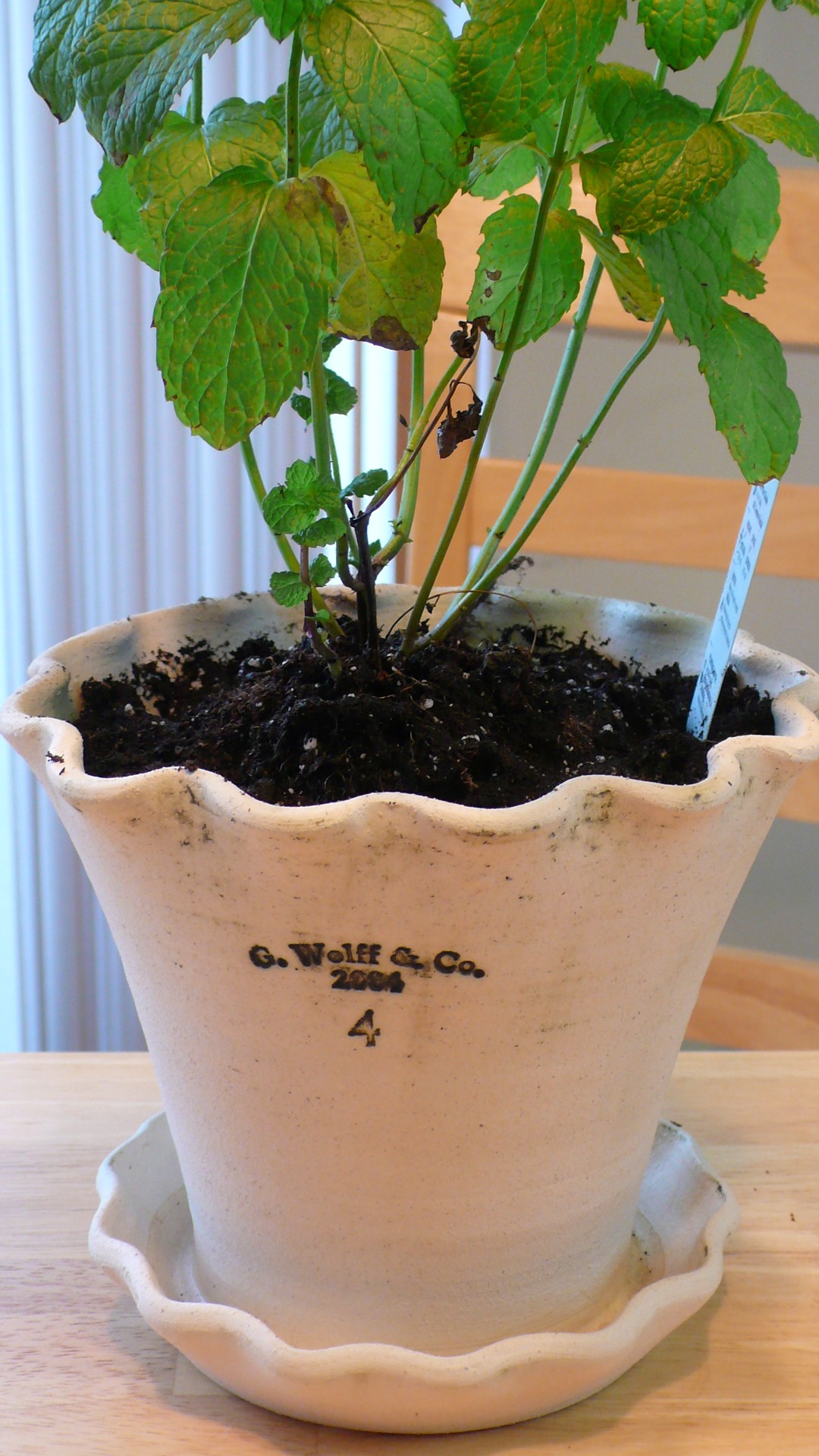 Basil went into the fat blue pot, and cilantro into the found pot from the pile of Her Things.  I wonder if that one will die first… Basil and cilantro are drinking buddies out in the rain today.  They look like they're having a pretty good time.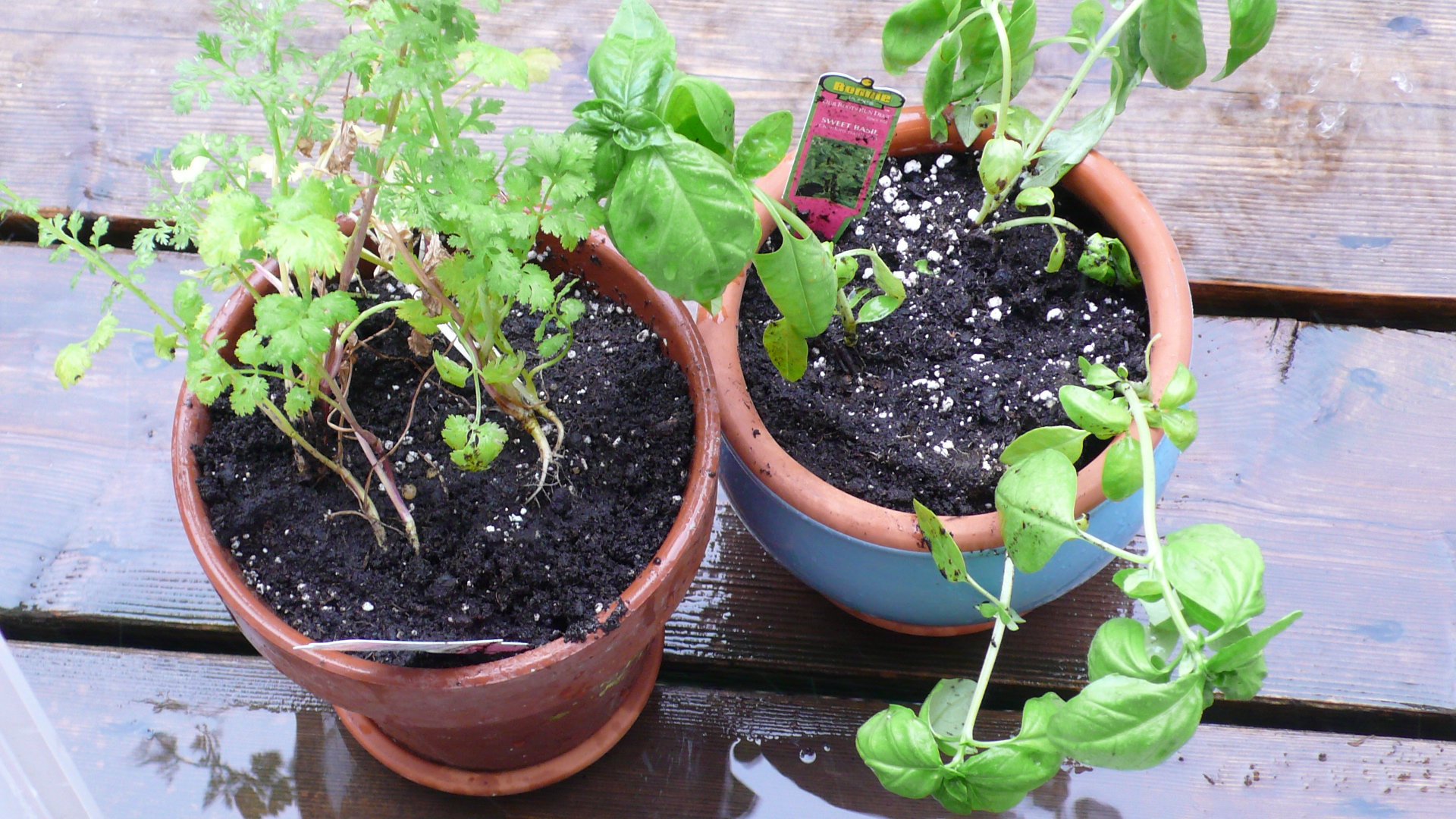 I'll let them settle in and hang some window treatments, and maybe in a couple of weeks I'll whip up some salsa and a mojito… and a margherita pizza.