15 Mar
As I mentioned, I managed to do all our weekly budgeted grocery shopping at fancy pants places last weekend.  One of the things I bought was a chicken.  A whole one.  I've never cooked one before.  It seems like a good thing to cook for supper, you know, for your family.  Warm.  Wholesome.  Made with love (bacon).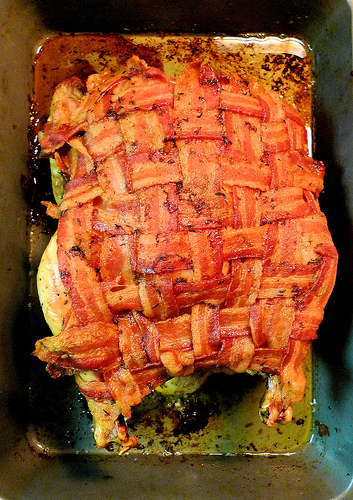 This is not my handiwork, only my dreams…

It's about the easiest thing I've ever done, once I found a recipe that didn't call for any wine.  Because there was no way we were opening a bottle of wine, pouring some of it into the pot, and NOT drinking the rest.  No way.
I eventually found a recipe that called for bacon and no wine.  So I stuffed my chicken with carrots and onions, surrounded it with brussels sprouts, and draped that bacon over it.  It was a thing of beauty.  I sliced and diced and seasoned and stuffed and finally, it went in the oven… about 45 minutes before I had to leave for wineyoga.
So I hollered some instructions ("Remove the bacon!" and "Stick the thermometer in there!  No, not there, THERE!" and so on…) at my husband while I changed and dug a granola bar out of the box.  "Can you handle this?"  "Yes…" he said, patiently.  [Note: he sometimes acts very patronized by me, esp. in the kitchen, but then suddenly doesn't know what to do with something.  Vicious cycle.  I'm not the bad guy.]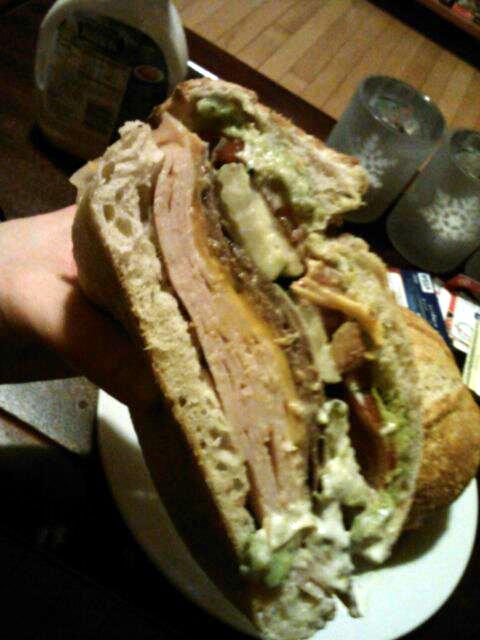 He prefers to make sandwiches.  On entire loaves of bread.  With pickles and mayo and ranch.  No, he isn't pregnant.
I ran out the door, got in the car, and it dawned on me that I'd started my evening with a roasting pan, some comfort food, and love… and finished it by racing out the door to get my free glass of wine.
What was that one road paved with?