18 Dec
I feel like I've been in pursuit of various things lately, with maybe a little more anticipation than these things warrant.  But you can't know if something is great until you try it, and anticipation is so fun!  So I obsess.  Sometimes my obsessions lead me to greatness, sometimes they lead me to yellow water.
I've discovered lululemon.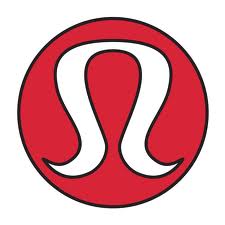 If you see this symbol, RUN.  This store is full of pants that make your butt look good, quilted running skirts that keep your butt toasty, and genius jackets that use magnets instead of snaps so that they make ordinary jackets seem TOTALLY ANNOYING.
Then I found out they have an outlet here, and I obsessed until the financier agreed to drive out with me and take a look.  Weeelllll, not a single pair of running tights to be found.  Maybe they just opened, but the stock seemed kind of bare.  And weird.  The lady suggested I try their pleated dog-walking pants.  Read that again… pleated. dog-walking. pants.  
What?
So I ended up with some tights and a turtleneck from Under Armour that should help me get back out there.  Snow is a fantastic excuse to hang it up for a few days (weeks).  2 weeks until the next race, though, so it's time to get moving.  But lulu, I am watching you.  If you so much as THINK about putting that jacket on sale, I will be there in 3 minutes flat.
Then there's the Holidrizzle.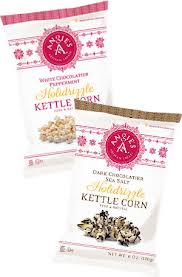 More like crackdrizzle.  Or holicrack.  Or crack.  I'm eating this bag for dinner, that is all.
Aaaaand….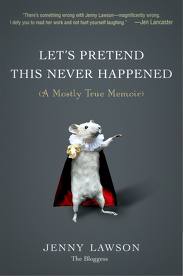 Our pick for book club this time around is Let's Pretend This Never Happened by Jenny Lawson.  Every time I read her blog, I nearly drop the baby.  Here's hoping the book is just as hilarious, and not too much of a great thing!
Next up: Quinoa pasta.  As far as I know, gluten isn't negatively affecting my life.  However, there are a lot of options out there that are gluten-free, and maybe a better choice.  I finally found the quinoa pasta at Target (turquoise box, left side of the aisle).  It's made from quinoa and corn meal, so there's a warning on the box that the cooking water will turn yellow and THIS IS NORMAL.  I watched the water, and didn't notice anything yellow.  But it made me wonder who would throw out their (slightly yellow) pasta if the water turned yellow…  Anyway, it's pretty good.  It tastes a little like polenta, for obvious reasons, and is really good when eaten really quickly out of the pot with some sauce and parm.
In other news, I figured out what to get the head of the household for Christmas, and I will take care of that tomorrow.  Even if it's mostly because I think I should GIVE him something at Christmas, so that his family doesn't think I'm not a giving person.
And I'll leave you with this conversation we had at a cookie-decorating party this weekend…
Me: Your cookies look like a 4 year old decorated them.
N: They're just artistic, and you don't understand them.
Me: We'll bring them to your mom next week, I'm sure she'll tell you they're just wonderful.
N: They are!  Like this Indian I just made.
Me: Dot or feather?
N: Dot.
Me: …Did you make the gingerbread man into an Indian-with-dot because he is brown?
N: *grin*