4 Sep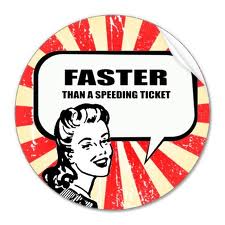 First, let me say that renewing your tabs is hard.  I admire all of you who get it done.  Sometimes I get my tabs renewed, but then putting them on the car is hard.  This was not my first tab-related run-in with the law.  I believe it was my fourth.
When the nice man pulled me over, he said, "Ma'am [cringe], I pulled you over because your tabs are expired."  I almost said: "I know!  Did you notice how I was trying to stay BEHIND you?"  The clever fella had pulled off the road, let me pass him, then pulled back on and pulled me over.  Sneaky…  What I actually said, though, was, "I know, I just noticed that," which was a total lie, and "I changed my name and moved last year, so never received a notice in the mail.  I didn't know they wouldn't find me like all my bills did."  That part was true.  And I didn't notice for a few months, but it should've been done by now.
Because we were on the highway, he was talking to me through my passenger window.  When he went back to his car to make sure I'm not a felon or whatever, I noticed that we'd been chatting over an open container of gin on the floor.  In my defense, I don't have a trunk and the seats are down in my SUV, so that was the least chaotic place to stash it on my drive home.  While he was away, I quickly covered it with my bag and fluffed my hair up a little for good measure.  He came back with a warning for the tabs and a "ticket" for my expired proof of insurance (another thing that is hard), and sent me on my way.  He was pretty nice, but not very observant.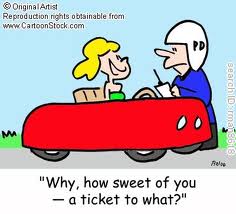 I bet you're wondering what a nice girl like me is doing driving around with an open container of gin.  Well, it was left over from a first date I had last night.  My lovely friend over at Riot and Frolic was nice enough to have me for dinner, drinks, and blog-strategy.  We've been FBBFFs (that's facebook-best-friends-forever…s) for a while now, but decided it was time to take things to the next level.  It was lovely and charming and full of fresh produce and fancy tonic water in small bottles.  I had brought the drink ingredients, and was just on my way home with my little open container.  No big.
I feel lucky to have so many great friends, but new ones are so great and it's definitely harder to make them once you're out of dorm life.  Even turning a coworker into a friend isn't as easy as you get older.  At least it's not as hard for me as it is for the menfolk, but I couldn't help my amusement at how we were both nervous that it might not "work out."  But it did, and I'll probably wait 3 days and then call her.  Look out, this could be the beginning of some great writing material…