8 Nov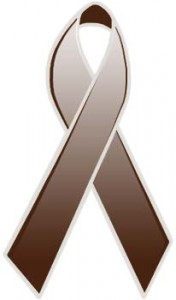 Have you ever looked up the list of awareness ribbon colors?  Holy moly.  There's a BUTTER CREAM ribbon.  It is, I kid you not, for lactose intolerant individuals.  
The brown ribbon stands for colorectal cancer awareness, or 8th place.
I chose brown for my campaign because my favorite alcohols are brown.  I really like dark, dark beers and whiskey.  And this is a campaign to SAVE THE ALCOHOLS.
Here's the deal: we live in a tiny apartment, but that's not really the problem.  The problem is a lack of storage, which means our food and alcohol are stored on ugly shelves because there are no more cabinets.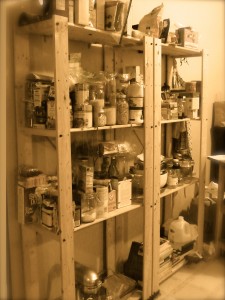 See?? IT'S LIKE THIS.  
The other problem is that everything people tell you about having kids IS TRUE.  They are funny and horrible and eventually they learn to walk.  And then they dismantle your home, if you have not buttoned up all of your things.  But… we can't.  Because of the no storage.  So today I decided I was going to throw it all away.
Even the alcohol.
Because she will not put down my Grand Marnier.
But I was rescued from the brink, and so far I have just thrown away food and cleared some new space for the alcohol to move to higher ground.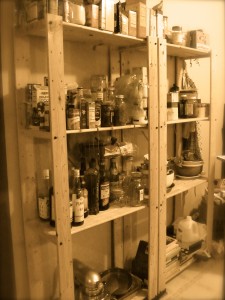 What are you talking about, it looks TOTALLY DIFFERENT…

Alcohol: safe.  Priorities!  Although, right now I'm sitting here drinking what was left of one bottle of booze, so maybe I'll "get rid of" that stuff after all…
Throwing everything away is fun.  Which bottle next??