8 Nov
Now that the election is over, I can go back to loving November.
Things I love about this month:
Gratitude posts on Facebook and Twitter
The Food
NaNoWriMo, even though it's not my thing to write fiction.  I love the idea AND the name.
Christmas is coming, but not yet here, and that's a state of limbo that I can love.
Back to gratitude…let's talk about what I have, shall we?
A FAMILY.  A real one, too, complete with offspring.
A husband who is not just generally great, but also tall and can open jars.
A baby who sleeps.  At night.
Sweet new threads to help me shift from fierce, eyeliner-and-lipstick black-clothes-wearing 60-hour worklady into what Stacy and Clinton insist on calling "Hot Mom on the Go."  I prefer "washable."

A KINDLE.  I realize that I just gave that the same grammatical weight that I gave having a family, but this was a long time coming, and my lovely friends ended the Kindle Standoff in my home.

It lights up but in a good way!
A job.  That comes with a laptop.  I always knew that would make me feel like I was in the CIA.
Many other things: house, car, health, groceries, etc etc.
So WHY did my trip to the mall to return some stuff make me feel so EMPTY inside?  Not empty, like, my life needs purpose.  Empty like I don't have enough cashmere sweaters!  And that headband with the feathers!  It would go witheverything. I would wear it daily and it would sleep on my pillow I need it.  Ooh, look at those SLIPPERS!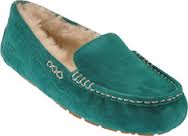 I had to get out.
On my way out the door I saw the stack of catalogs and nearly grabbed one to browse from the safety of my home.  You know, to get new ideas for styling the things I already own.  Fortunately, I saw through that one in time to just keep walking.  My life is not incomplete, I have plenty of cashmere sweaters, etc etc.
It's a good thing I didn't take one.  When I finally got home, that catalog was lying in wait outside my door.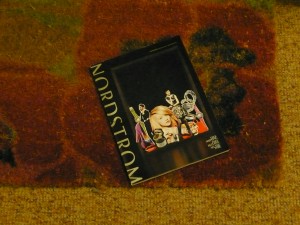 What I should do: recycle it immediately.  What I will do: recycle it immediately…after I read it cover to cover.