23 Nov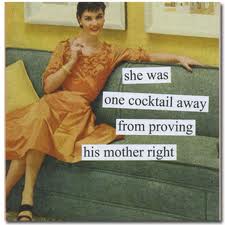 His mother said I could bring a vegetable to Thanksgiving.  This is kind of a big deal – she's got a system and I don't think most people try to force their culinary efforts on that system.  Well, we all know I'm not most people.
I put some thought into this, polled the audience, etc.  According to Giada, Monday wasn't too far in advance to make my veggies.  I wanted to roast something.  Roasting is the best – it sounds cool, it smells amazing, and it's great for super lazy people like moi.
I googled and pinterested for recipes, and combined the two that got any kind of vital response from my husband.  The catalysts: garlic and bacon.  I more or less followed the directions for the garlic recipe, but the bacon recipe added that melty texture that helps them be less… brussels sprouty.
Here's how it goes:
Wash your sprouts in a colander, and cut them in half so that they can soak up lots of fat while they cook.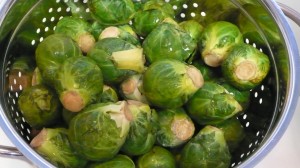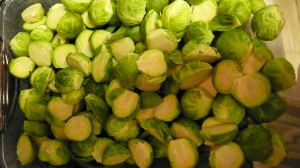 Pile them into a 9X13 baking dish and toss them with some olive oil, salt, pepper, and minced garlic.  Then let them sit in suspense for what awaits them next.
Take a package of good, thick cut bacon, and cut it into matchstick strips.  Toss it all in a pan and crisp it up.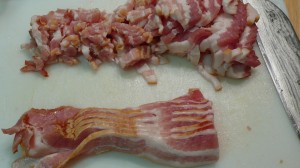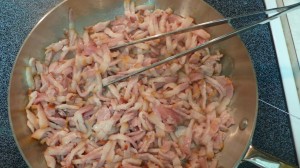 Remove the bacon and let it drain on paper towels.  Pour the fat over the pan of brussels sprouts, add the bacon, and toss it all together one last time.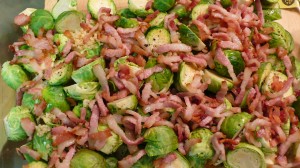 Put the pan in the oven on an above-center rack at 425 degrees.  Toss them around every 15 or 20 minutes so that they roast evenly.  I tossed them twice, and then watched them pretty closely for the last 10 or so minutes, so they probably cooked for about 45 minutes total.
Since I bought some extra sprouts, I ended up pan-cooking what wasn't in the baking pan with a couple tablespoons of the bacon fat while I reduced the sauce for my pork roast.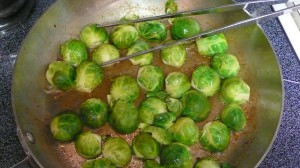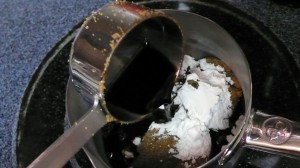 Dinner was served, and went nicely with a Jameson old fashioned.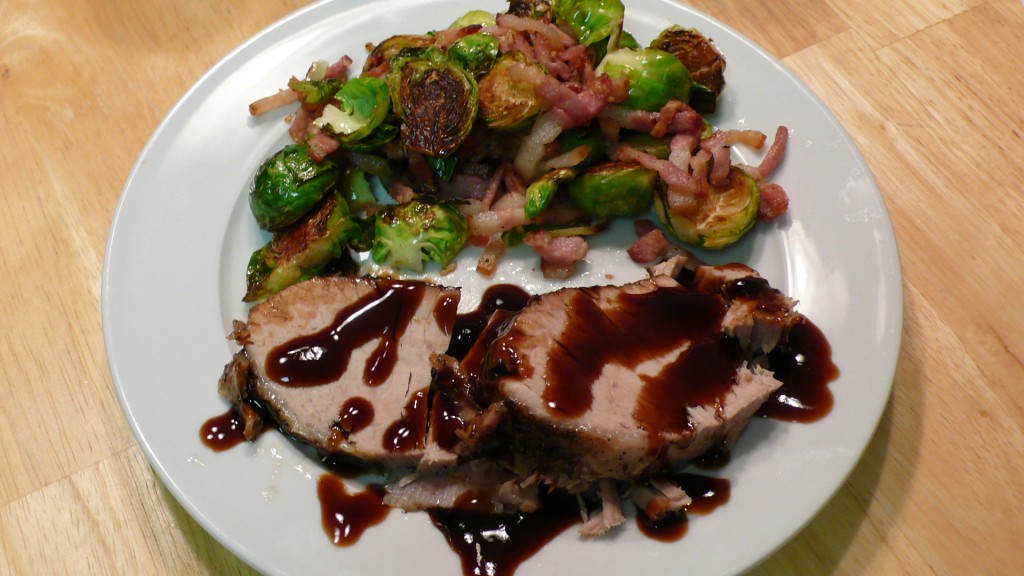 But what should one do before presenting the Mother In Law with a dish for Thanksgiving?  Oh, I don't know… TASTE IT?  Not me, apparently.  No, I like to live dangerously.  I have the confidence to put something on that most intimidating of tables and just assume that it's not ruined.  You might think that it's only Wednesday, and Thanksgiving isn't until tomorrow, so I still have time.  You would think that, wouldn't you…  I'll just forget to do it, and anyway I think I prefer to live with a low-but-constant level of panic.  If I didn't, then surely I'd have tried them in the first place.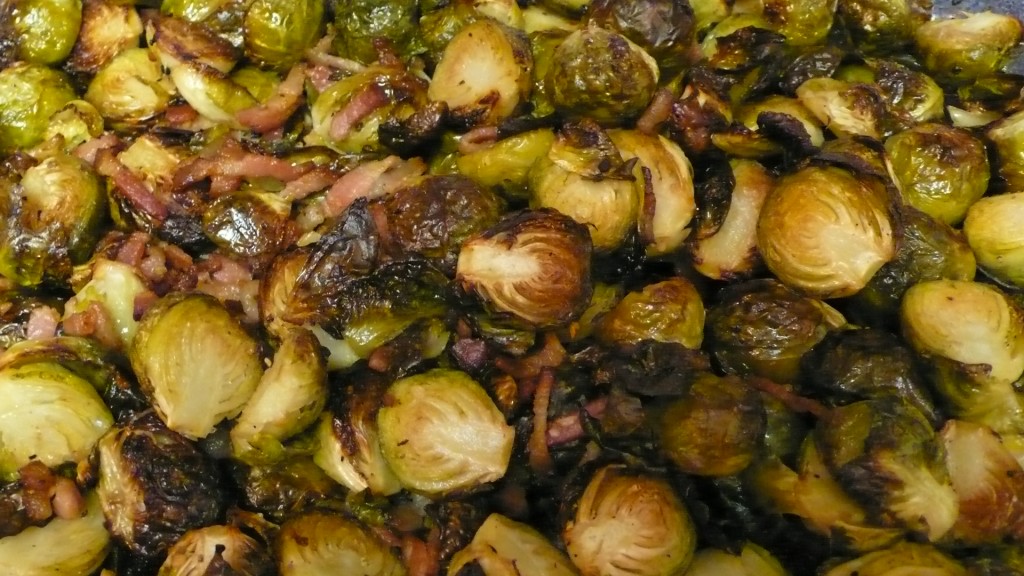 Here's hoping they taste as good as they look/smell.  Can't be any worse than the vodka project I brought last year that tasted like the cardamom pod that ate Tokyo.